Veterans vigil remembers the fallen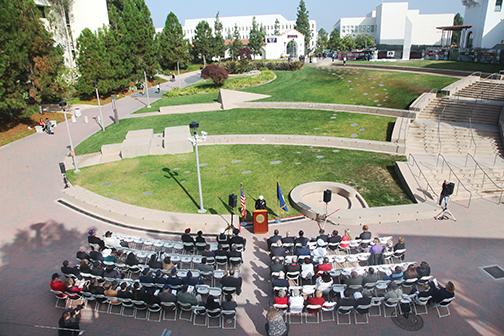 Alumni of SDSU killed in service were honored at the two-hour War Memorial Ceremony on Friday, Oct. 25 on Aztec Green.   The speaker for the event was SDSU alumnus and retired U.S. Air Force Brigadier General Robert L. Cardenas.
The names of 234 alumni names are on the monument, with two more to be added later this year, war memorial committee student representative for the Student Veteran Organization Holly Shaffner said.  The memorial is a three-sided column and stands 25-feet tall. It was designed by former SDSU art professor Jesus Dominguez. The jagged top of the granite column represents the untimely deaths of SDSU alumni.
There are plans for an addition to the memorial, Dominguez said.  A semicircle of benches will surround the column and have jagged edges echo the theme of untimely deaths.  The benches could be installed as early as next year, Dominguez said.
The SDSU Chamber Choir began the event by singing the national anthem, followed by a speech by Cardenas.
"Three or four times my name could have been on that monument," Cardenas said as he told the attendees stories from his time in the Air Force.  Cardenas graduated from SDSU in 1939.
For the event, wreaths were laid on the monument by three SDSU organizations:  the SDSU Alumni Association, the Student Veteran Organization and the Alpha Phi sorority.
The night before the event, student veterans and SDSU ROTC students held an overnight vigil at the memorial to bring awareness and honor the sacrifices made by SDSU alumni.  The vigil started on Thursday at 5 p.m. and continued until the start of the ceremony Friday morning.  The students stood in pairs next to the memorial for two-hour shifts.
One student veteran who stood watch was geography junior Jonathan Cuaycong.
"When you hear about Aztec alumni who have given up their lives, this is the least I can do to honor them," Cuaycong said.
The veteran community at SDSU has been important to Cuaycong and other student veterans.
"If it wasn't for the veterans community here I wouldn't have been as successful as I have been," international security and conflict resolution senior Colby Smith, who also stood at a watch, said. "This is the least I can do for them."
The conclusion of the ceremony came when echo taps were played by sailors from the Navy Band Southwest Quintet.
"With the last note of echo taps I feel like we can start homecoming," chairman of the SDSU War Memorial Committee Chairman and retired U.S. Air Force Col. Martin Wojtysiak said.
 Photo by Monica Linzmeier, Photo Editor