Aztec hockey topples Bruins in OT win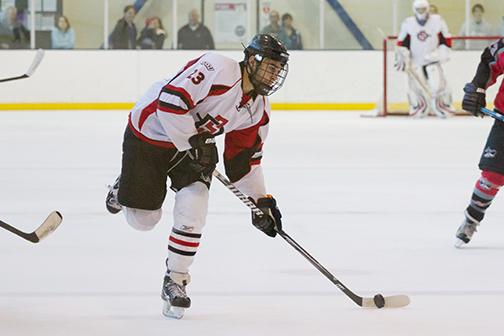 The San Diego State Hockey Club returned home with more to celebrate than Saturday night's 6-5 overtime win against the University of California, Los Angeles.
Freshman Megan Thompson checked in her first game of the season, marking the first time in program history that a female skater played in a game for SDSU.
[quote]"Being on the ice was honestly so amazing. I hadn't played in a game in so long, I forgot how much fun I'd have," Thompson said. "I was super nervous before the game, but the team and coach were really supportive and helped me overcome that feeling."[/quote]
"Megan played well; I give her a lot of credit," head coach Chris Migliore said. "She didn't shy away from anything. She is a good, tough player."
Thompson, who is listed as a forward, saw her first action at right wing. She came close to scoring her first goal as her shot off of a rebound went just wide of the net.
"It's frustrating when you're so close, but just barely miss the play," Thompson said. "It just shows me what I need to work on so that the next time I'm in a situation like that, it'll be a goal."
This was not Thompson's first time playing among men, she welcomed physicality from the opposition.
"I've always played men's hockey so I'm used to the aggressive tone," Thompson said. "Personally, I love the aggression."
The overtime win was filled with drama and excitement, but the win won't keep the Aztecs out of the doghouse for their lackluster play.
[quote]"We did not execute. Our players weren't focused on the task," Migliore said. "UCLA played well but we are not happy with the results. Our players need to understand that just showing up will not win games. We have a lot of work to do."[/quote]
The Aztecs will look to right the ship before Friday night's game against Oregon.
Photo by Kristian Carreon, Staff Photographer