Baseball players spook spectators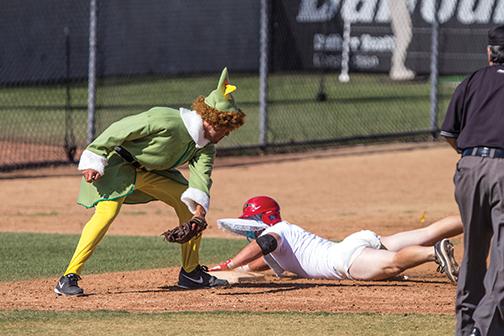 Players dressed as President Barack Obama, Captain Underpants and Buddy the Elf were all out swinging the bats on Sunday afternoon as the San Diego State baseball team held its third annual inter-squad Halloween Game at Tony Gwynn Stadium.
The Aztecs, who were all wearing costumes, were split up between the Red Team and the Black Team. The four-inning contest ended in a 5-3 score in favor of the Red Team.
The most popular costume of the exhibition game, as determined by the observable applause and laughter throughout Sunday's crowd, was the Jamaican Bobsled Team. The bobsledders were composed of redshirt freshman catcher CJ Saylor, sophomore pitchers Tyler Sapp and Mark Seyler, sophomore infielder Danny Sheehan and redshirt freshman pitcher Cody Thompson.
While Saylor was the only "Jamaican" to have an at-bat, all the bobsledders managed to make an on-field appearance as they followed the catcher in their faux bobsled out to the batter's box. With Saylor swinging the bat, the Jamaicans were wise to crouch low to the ground.
[quote]"Coach said 'We're going to try to get you guys all out there together,' so we just kind of ran with it," Seyler said. "It was supposed to be a nice easy swing and then he (Saylor) went out there swinging hard. It was a little scary after that."[/quote]
Contrary to what most may believe, mobility was not a priority when picking a costume for the Aztecs. Senior infielder Evan Potter, clad in a cardboard box that covered a majority of his upper body, was dressed up as Facebook. Potter didn't let his costume hinder his play, however, as he had two hits in Sunday's contest. He was caught stealing second base twice, sliding while wearing the cardboard both times.
In the grand scheme of things, the baseball team's Halloween Game is nothing more than an opportunity for the team to relax and have a good time, freshman outfielder Tyler Adkison said. Although the team is always seeking to improve, he said he was happy with its level of play.
[quote]"I think the hitters hit the ball very well today," Adkison said. "We're showing we can hit the ball well. The pitchers did a good job too. Considering we're all in costumes we can't move very well, but it's looking good."[/quote]
The Aztecs' baseball season will commence on Feb. 14, when they visit Mountain West Conference opponent San Jose State University for a three-game series.
Photos by Kelly Smiley, Staff Photographer