Costumes to beware of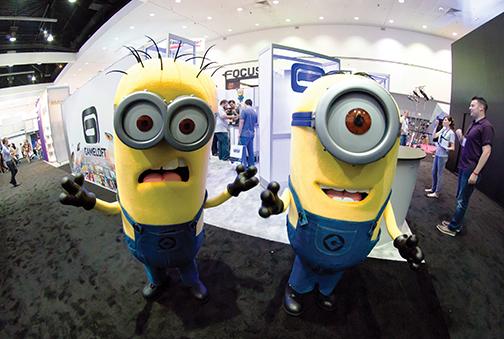 That time of year is finally back when it's socially acceptable to wear ridiculous outfits and parade throughout the street with bags full of candy. Halloween is when you can dig out old clothes you thought you would never need again and piece together the perfect costume. It seems the older you get, the more time you spend struggling to find the most creative and unique costume. However, finding a costume should not be a problem.
Celebrities and famous characters have not only made finding a worthwhile Halloween costume easier, but have also made it less stressful.
Here the top predictions for popular costumes this year:
Miley Cyrus
Miley Cyrus is a popular Halloween costume this season. Specifically, the infamous 2013 Video Music Awards silver leotard she wore and then ripped off halfway through the performance. This outfit, a teddy bear printed on the front sticking its tongue out (the trademark Cyrus gesture) became an Internet sensation, and costume stores filled their shelves with the same parody costume, which didn't take long to sell out. People wearing it will flood the streets wearing this costume with their tongues out and foam fingers held high.
If you ruled out the costume because of the last missing piece to your Cyrus puzzle, a Robin Thicke-like partner, have no fear because this costume also exists. Costume stores introduced the Cyrus ensemble with its counterpart, the Thicke black-and-white striped tuxedo. If you're lucky, this costume may still be in stock, but it's just as popular as the Cyrus one. Be prepared to see this costume Halloween night as well, because what's a good Miley joke without Thicke? More importantly, who will Cyrus grind on all night?
Kinesiology sophomore Zayna Green said she already knows some of her friends are dressing up as Cyrus and Thicke this Halloween. Green believes Cyrus and Thicke will definitely be favorites this year. She is personally planning to dress up as the Walk of Fame, while her friend dresses up as the Walk of Shame.
Walter White
Another predicted popular costume this year is inspired by the famous TV show "Breaking Bad," which sadly ended this year after five seasons. The main character, for the few who have no idea, is a man by the name of Walter White. He wears a heavy goatee and easily transforms into his alterego, Heisenberg, by wearing a black pork pie hat and a black jacket.
Business and Spanish senior Jessica Toscano is unsure of what she will dress up as this Halloween but knows some parents who will be dressing up their kids as Heisenberg.
"I have already seen a bunch of guys dress up as Walter White for Halloween," computer engineering senior Gilberto Valenzuela said. Valenzuela dressed up as Bowser from "Mario Kart" this past weekend.
To continue with the theme of "Breaking Bad" costumes, White and his partner Jesse Pinkman will also be on the streets this Halloween, in their cooking gear. The long, yellow lab hazmat suits, along with face masks for protection against harmful chemicals are essential for the costume.
Other favorites this Halloween will be miniature, yellow Minions from "Despicable Me" and the men from "Duck Dynasty." All it takes is either blue overalls and a yellow shirt, or cargo pants and a beard.
Finding the perfect, nontraditional costume should be easy this year. However, if you're out on Halloween night beware of the inevitable cat costumes women like to wear and the typical sports player guys dresses as. Consider this a public service announcement: Although these costumes are fun and will turn heads, it takes the right person and the wrong outfit to stir an unwarranted laugh.
Photo courtesy of Dalvenjah.