ASL Club distributes petition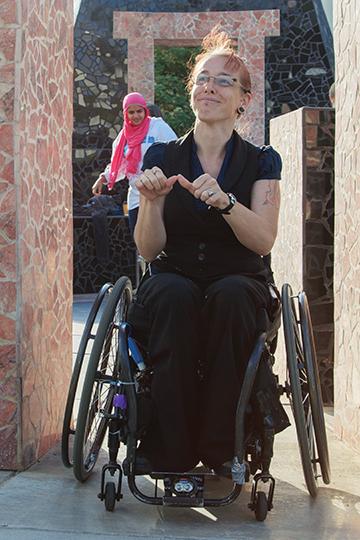 The San Diego State American Sign Language Club will be submitting a petition to school administrators on Nov. 26 asking the school to reinstate its deaf studies program.
The petition currently has 4800 signatures and has gained nearly 350 supporters online, ASL Club vice president and psychology senior Angela Van Ostran said.
The deaf studies program was cut from the School of Speech, Language and Hearing Sciences in 2010 amid schoolwide budget cuts, but was supposed to be brought back this year.
The petition not only calls for the return of the major, but also increased access to ASL classes. Currently, the only ASL class offered at SDSU is not available to students outside of the SLHS major.
The petition states the lack of a deaf studies program represents a lack of support for the deaf community and its culture.
"There is a lot of confusion about the deaf community," Van Ostran said. "People don't realize that like any language, ASL has its own culture."
Student Disability Services currently offers a variety of interpreter and captioning services to the deaf and hard-of-hearing students, interpreter captioning coordinator Patricia Griffith said.
"Accommodations are determined by the student and their SDS counselor depending on past history of accommodations, and in some situations student preferences," Griffith said.
The services offered to deaf students are mandated by the American with Disability Act Amendments Act of 2008, Student Disability Services Director Pamela Starr said. The services for deaf students have remained unchanged since the cancellation of the deaf studies program.
"Accommodations for students who are deaf are determined on a case-by-case basis, and when the need arises, we will determine those needs and implement them," Starr said.
Services for deaf students have remained unchanged despite the cancellation of the deaf studies major.
SDSU's interpreter services extend to situations directly connected to a student's academic success, Griffith said. She said these services include note taking, captioning for tutoring, meeting with professors and study groups, along with other school-related ventures.
Van Ostran says that because the services are available only in academic situations, deaf students still miss out on the social community.
Widespread access to ASL would be particularly advantageous to the deaf community because they would have more social options, Van Ostran said.
The ASL Club hopes that even if the petition does not bring the return of the deaf studies program, it will at least raise awareness in the SDSU administration about the issues that the deaf community faces.
The petition can be found online at change.org or through the ASL Club's Facebook.
Learn more about the ASL Club's desire for the program's reinstatement