Movie producer has advice for SDSU students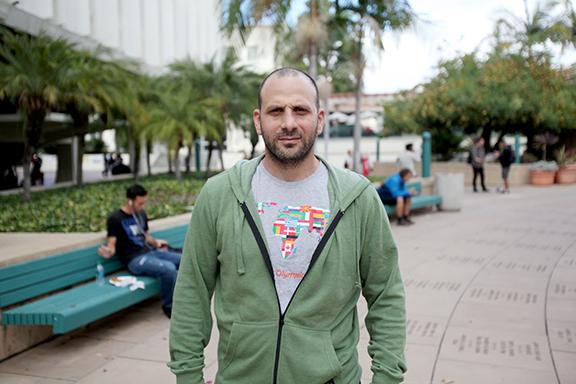 Three-time National Student Emmy Award winner Ron Najor, a down-to-earth, yet highly intelligent, San Diego State alumnus, produced Destin Daniel Cretton's features  "Short Term 12" and "I Am Not a Hipster," the latter being available on Netflix Instant. He is now teaching a six-part lecture series about what SDSU's film program students should be knowledgeable about in order to work in independent movies.
The Aztec: Tell the readers a little about yourself and your experiences at SDSU.
Ron Najor: I went to undergraduate and graduate school at SDSU. I grew up in San Diego and went to junior college first. I then transferred to the University of California, San Diego, as a literature major, and I just didn't like it. I then went back to junior college and continued my education at SDSU.
I started in psych and once I found out about the film program, I entered it. I actually double majored in psychology and film and came back here to get my master's. People did discourage me, because normally, you're not supposed to get your master's the same place you got your undergrad degree. However, I really liked SDSU, the professors, the environment and the people on campus. I ended up making a bunch of short films. All in all, it was a positive and great experience being at (San Diego) State.
TA: What have you been up to since you graduated?
RN: I graduated with a master's in 2002. I started working in Los Angeles as a production assistant for many years. About a year or two after graduation, I was actually asked to come to SDSU to teach part-time. I taught an "Introductory to 16mm Film Production" class for three years. Since it was one day a week, I was able to travel back and forth between LA and San Diego. That experience was great because seeing students so excited about the material helped motivate me to keep going with my career.
TA: Can you share some information about the lecture series you are a part of?
RN: It's kind of a new thing that Professor Greg Durbin and D.J. Hopkins, the Interim Director of the School of Theatre, Television and Film, wanted to try. They looked into new programs for the students and they asked me if I wanted to do a few lectures. We started talking and designed a six-part lecture series. This is the first time we are doing this.
The lecture is basically everything that I wished people would talk about in the last couple years of film school. I'm teaching them about things I learned over the years and outlining for them how to get jobs, the importance of short films, how to utilize their short films, etc. It's an insider's look into independent filmmaking.
DA: What inspired you to become a producer?
RN: I initially did not intend to be a producer. I got into film school and was editing, directing and producing. I did a little bit of everything and I still do that in LA. I will camera operate on shoots. I will do a little bit of editing here and there. The thing that I always seem to fall back on, and was sought after for the most, is producing.
DA: How did you meet frequent collaborator, Destin Daniel Cretton?
RN: Cretton went to film school after I went to school. We would run into each other when I was teaching and at various functions and events. We started to work together because of similar interests and we always wanted to work together, but I was doing camera operating and was directing and producing behind-the-scenes documentaries. Destin (Cretton) decided to edit one of them, and I thought it was one of the best behind the scenes I had ever seen put together. We then started to work together pretty much from that point on.
DA: Do you have to live in LA to make films in general?
RN: Not really. There is a great community in Austin, Texas making independent films and there are great groups in Seattle and New York. The major filmmakers who are working consistently are usually based in LA. The more established filmmakers are in LA and New York. In terms of independent film, you can be anywhere. However, if your goal is to work in the Hollywood system on more major motion pictures or television shows, you do need to need to gravitate more toward LA.
DA: Have you had any lucky breaks or have your accomplishments come because of hard work, or a combination of both?
RN: It's always a combination of so many different factors that come into play. There's also times where you're working really hard and nothing happens and then something comes down the road, which will be easier success. It usually has a lot to do with the stuff you did early on building that momentum.
DA: What is the most important advice you can give to film students?
RN: Try to figure out what you would like to do in the filmmaking world. Dedicate all your time to perfecting and doing that. An example would be if someone wanted to be a filmmaker, they should make 10 short films, because that's how they're going to be judged.
A sound designer should work on as many projects as they can. The sooner a person does that, the sooner they can be recognized for their talent.
Also read: Come on down to Belly Up Tavern
Photo by Monica Linzmeier, Photo Editor