Hollywood Happenings: Starring Adam Levine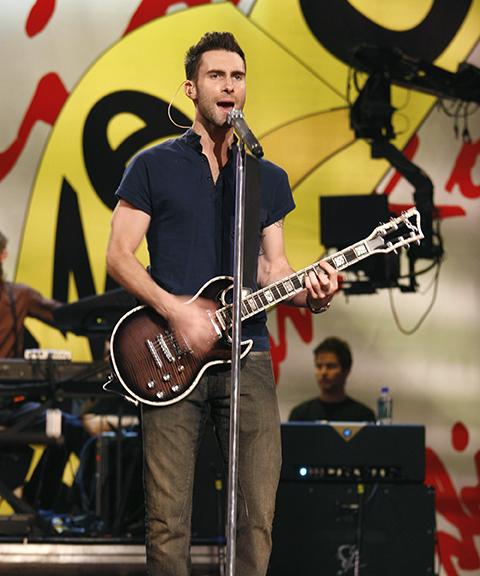 Celebrity of the week:
Maroon 5's lead singer Adam Levine was named People magazine's "Sexiest Man Alive." Levine, who is also a judge on the hit show "The Voice," beat out other leading males in the entertainment industry for the top spot, including Justin Timberlake and Chris Hemsworth. The 34-year-old told People magazine he didn't expect being awarded the title.
"I was just amazed and stunned and it almost seemed like they were kidding, but they weren't, so that's cool," he said in the magazine, which is out on store shelves now.
Sightings: 
On Sunday, Nov. 24, Hollywood came together to celebrate the American Music Awards in Los Angeles at the Nokia Theatre. Celebrities who attended the annual award show included host Pitbull, Jordin Sparks, Lance Bass and many more.
According to ABC news, Katy Perry opened the show with her song "Unconditionally," while Miley Cyrus performed at the end of the evening. Other performers included Justin Timberlake, Taylor Swift, Lady Gaga, Rihanna, Luke Bryan and Florida Georgia Line.
While celebrities were preparing for the AMAs, Jessica Simpson traveled to Dallas during the weekend with her family, including husband Eric Johnson and their two children Maxwell and Ace. Simpson was in Dallas to promote her clothing line at Dillard's.
Romance: 
According to Eonline, Kirsten Dunst and Garret Hedlund were seen together in Sydney for the premiere of "Anchorman 2: The Legend Continues." The couple, who started dating in the beginning of 2012, coordinated their black-and-white wardrobe with one another. Dunst was even seen wearing a sparkling diamond ring on her finger. Although the ring, is not an engagement ring, who knows what the couple has in store in the future?
Trivia: 
1. This popular country artist's first name is Thomas, but he goes by a different stage name. The star has written many songs, five of which have made it as No. 1 hits on the charts. He was recently voted "Favorite Male Country Artist" at the AMAs. That title proved to be true as the crowd went crazy during his performance of "That's My Kind of Night" at the awards show.
A. Luke Bryan
B. Jason Aldean
C. Jake Owen
D. Eric Church
2. This actress, singer and songwriter started off her career by playing the role of Cat Valentine on the Nickelodeon show "Victorious." She released her first studio album, "Yours Truly," in 2013. The first single she released off this album, "The Way," featured well-known rapper Mac Miller, which helped this star transform from being seen as simply a Nickelodeon star to being recognized as a talented musician on the rise.
A. Miranda Cosgrove
B. Victoria Justice
C. Ariana Grande
D. Selena Gomez
3. This country artist didn't have any teardrops on her guitar this past week as she was voted Artist of the Year at the American Music Awards. The singer won two other AMA awards that night. Being only 23 years old, she has already released four studio albums, won a total of six Grammy Awards, and been named one of the 100 most influential people in the world by Time magazine.
A. Kelly Clarkson
B. Carrie Underwood
C. Miranda Lambert
D. Taylor Swift
Answers: 1.A 2.C 3.D
Also read: Hollywood Happenings: Starring Angelina Jolie
Photo courtesy of Rob Kim/Landov/MCT
 Compiled by Brooke Schlyer and Bekah Haynes