Hockey Club sunk by the Titans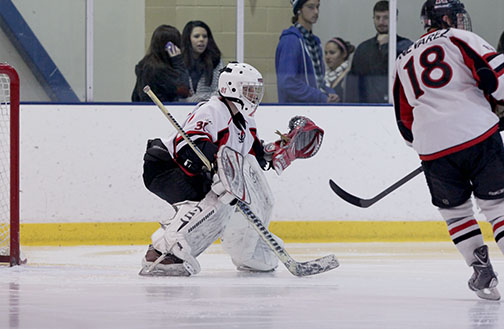 The San Diego State Hockey Club's struggles at home continued on Friday night as the Aztecs fell to California State University Fullerton 5-3.
With the score tied 1-1 at the end of the first, the No. 6-ranked Aztecs looked poised to step up and take care of the No. 9-ranked Titans, and win at home for the first time since October. Unfortunately, the energy escaped the team after the first intermission, and it allowed three straight goals in the second period.
Junior goalie Filip Curkovic, from Zagreb, Croatia, got the start for the second straight game.
[quote]"We can't really be happy with our performance lately," Curkovic said about the team's recent struggles. "We just need to stick to our game plan, which we didn't do today. We have a quality team, we just have to prove it to others."[/quote]
Junior defenseman John Riley brought the Aztecs within two as he scored on a power play in the closing minutes of the second period. The score gave SDSU a much needed boost of confidence going in to the final period, but it was quickly lost as the Titans opened the third with a goal in the 17th minute.
Down three scores, staring in the eyes of yet another loss at home, the Aztecs failed to help their own cause with undisciplined penalties, which have become a trend in the third period. SDSU did well on the penalty kill, escaping a two-man disadvantage that included a 5-minute major penalty, but the time spent on their heels stifled any chances of a comeback.
[quote]"Our guys just didn't show up," head coach Chris Migliore said. "We got caught up in the extra curricular things that our team isn't built for. It's just something that we can't get into."[/quote]
A third period goal by sophomore forward Travis Sevilla brought the deficit back to two goals, but the lead proved to be too large as the Aztec offense was limited to just seven shots in the final period.
[quote]"We've had a pretty bad last month or so," Migliore said regarding his team's recent struggles. "I think the kids just started believing their own hype. We have to show up every single night and work hard and do the things that got you those wins in the first place. Right now, we're just not doing it."[/quote]
SDSU's next home contest will be on Jan. 17 against San Jose State University. General admission is $5 and students get in free with their RedID.
Photo by Wesley Beights, Staff Photographer.