The must-have apps for traveling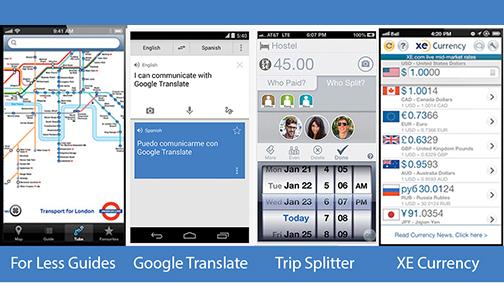 Studying abroad is atop many college students' bucket lists and at San Diego State many achieve that goal. More than 1,800 SDSU students studied abroad in the 2012-13 school year alone. Recently, the International Education's Open Doors report ranked SDSU 30th for the number of students studying abroad and No. 3 in California. Despite these rankings, traveling itself can be difficult and expensive. However, in lieu of pocket dictionaries and guidebooks, today's technology gives travelers an easier way to maneuver their globetrotting. Whether it's a semester abroad or spring break plans, The Aztec's guide to the best travel apps will benefit any traveler on any kind of trip.
XE Currency
XE.com is one of the most reliable currency websites and its app is a reflection of that. The XE Currency app gives the latest, most accurate currency conversion for the world's many currencies. The app operates without Wi-Fi by saving the most recent update so users can convert their currency without a connection. The app is customizable, allowing users to easily manage conversions across multiple currencies. This free app is available for most devices, including Apple, Android, Blackberry and Windows.
Google Translate
Similar to the Google Translate web application, this app translates text between more than 70 languages. It offers both a typed and handwritten feature in addition to voice recognition, perhaps the most useful feature. The voice recognition feature allows users to speak and have those words verbally translated back to the user, allowing users to communicate with locals in a differnt country. While the accuracy of Google Translate isn't perfect, it offers the ability to communicate in a foreign country without the inconvenience of shuffling through a pocket dictionary. This free app is available on most platforms.
Trip Splitter
Trip Splitter is an app to revolutionize spliting bills. The app allows users to divide travel costs among multiple people, making it an easy way to keep track of IOUs. The app offers the ability to categorize paid and owed quantities and the option to send an email to participants with a breakdown of costs. It also offers currency conversion and finance management for a trip. Trip Splitter allows users to easily manage their money when traveling with friends, so no one is left paying more or less than their fair share. This app is available for $1.99 in the Apple store only.
For Less Guides
The For Less Guides apps are compact city guides with all the information needed for navigating an unexplored place. The app exclusively features large metropolitan cities: London, New York, San Francisco, Amsterdam, Paris and Edinburgh. It should be noted that apps for different cities must be purchased separately. However, the app works completely offline, allowing users to access city and metro maps without using Wi-Fi or a data plan. For Less Guides offers exclusive discounts on top attractions and restaurants, in addition to information on points of interest throughout the city. For what this apps lacks in variety of places, it makes up for in its detail-oriented offering for the selection of cities. This app is the most expensive on our list, priced at $13.99 per city and is available in the Apple store.