Weekend Picks: Theater and DJ Sets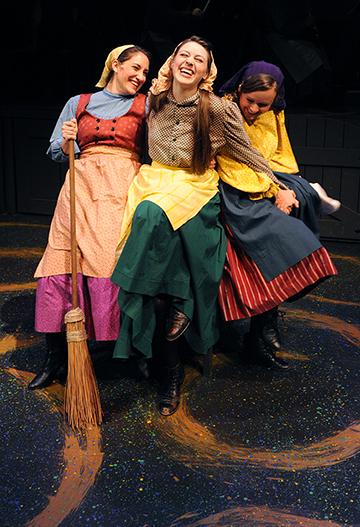 Every week, the entertainment staff recommends San Diego events worth checking out. Here are some picks from entertainment editor David Dixon and staff writer Alek Sanchez.
David's Picks
"Who Am I This Time? (& Other Conundrums of Love)"
"Who Am I This Time? (& Other Conundrums of Love)" features three delightfully entertaining love stories adapted from Kurt Vonnegut tales. This production at the San Diego North Coast Repertory Theatre has several San Diego State alumni working behind the scenes, including lighting designer Matt Novotny, costume designer Sonia Elizabeth Lerner and Peter Herman as the hair and wig designer. All of their contributions stand out and add to the fun on stage. The comedy has been out for a couple of weeks, so check it out before this enchanting show leaves town.
"Fiddler on the Roof"
"Fiddler on the Roof," the classic musical about a Jewish father living in Tsarist Russia with three of his daughters is now in a limited run at the Lyceum Theatre. This production is a transfer of the Lamb's Players Theatre's interpretation in Coronado, which was met with great acclaim several months ago. The cast includes SDSU alumni Kyrsten Hafso-Koppman and Brandon Sherman. The play also features memorable songs such as "Sunrise, Sunset," "Tradition" and "If I Were a Rich Man." If you missed "Fiddler on the Roof" in 2013, make some time to see the legendary epic live.
Alek's Picks
Mikey Lion and Deep Jesus
Bang Bang, San Diego's premier outlet for the alternative, is throwing a free show. Come on down this Friday, Jan. 24th, and check out a nice back-to-back DJ set from Mikey Lion and Deep Jesus. With both DJs at the helm, Mikey Lion brings his tribal tech-house sound and blends it with what Deep Jesus does best: deep house. Bang Bang's "boiler room" setting offers an intimate atmosphere for patrons as Mikey Lion and Deep Jesus work their magic on the decks.
Rusko
If you're looking for a bigger stage for your Friday night, don't miss Rusko at Bassmnt. Rusko has been at the forefront of bringing dubstep to the mainstream, from the U.K. to the U.S. With a catalog of heavy wobbles and mind-melting bass, Rusko also brings with him a touch for the lighter side of the sound with his elevating harmonies and melodies. Wherever he is, Rusko brings pure energy night in and night out.
Also read: Weekend Picks: Christmas movie and an R & B show
Photo courtesy of Ken Jacques