SDSU considers student fee increase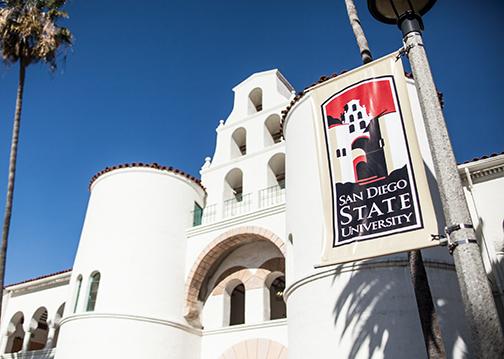 San Diego State's Campus Fee Advisory Committee is enlisting the help of students in deciding the fate of a proposed permanent fee increase aimed at bolstering the teaching staff.
At a series of forums starting Feb. 4, CFAC is inviting students to vote on the size and scope of the fee potential increase, which it has named the "Student Success Fee."
Associated Students President Josh Morse said this alternative consultation approach is new for CFAC and if it proves successful, may be used for future fee increases.
"Normally it would be: here's a fee increase; Hope you're cool with it," Morse said. "But now we are asking the students to let us know what they think."
At each of these forums students, will be given ballots with options ranging from $500 per semester to $200 per semester CFAC member and associate dean of the College of Professional Studies & Fine Arts Kathy LaMaster said. If students approve the full $500 fee increase, SDSU will be able to permanently hire 200 tenure-track professors, LaMaster said. The $200 fee increase would also guarantee only 80 tenure-track professors.
"We want to know if there's an interest or tolerance amongst students before we make any major changes," LaMaster said.
Though 90 percent of the money in made from the Student Success fee would be put toward hiring teachers, the last 10 percent would be divided among the colleges and used at the discretion of their respective college councils, LaMaster said. The fee is what is known as a category two, which means 100 percent of the money stays on campus.
"In an ideal world, students will take the full fee increase, but we understand that money can be tight, especially for students at a public university," LaMaster said.
Even with the full fee implemented, LaMaster said SDSU will still be short of recovering 238 faculty and almost 1000 course sections the school has lost since 2008.
She said the fee increase was inspired by similar fee increases at California State University San Marcos and Cal Poly San Luis Obispo State University.
"What many students don't realize is we can't exactly go to the CSU system to ask for money," LaMaster said. "We have to find most of the money on our own."
The fee would be implemented gradually during a four year period, SDSU's Chief Communications Officer Greg Block said. Though the fee increase will probably not directly affect most current SDSU students, Block said students should think about the next generation at SDSU.
"When I was a student at SDSU in the 90s we approved a fee increase and then after I graduated they broke ground on what would become Viejas Arena, the ARC and the Aquaplex," Block said. "My question to students is how would your experience at SDSU be different without those buildings?"
The forums will be held twice a day, Monday through Friday until Feb. 21 and hosted by a variety of campus organizations. The forum schedule and a sample ballot are available at studentsuccessfee.sdsu.edu.
Photo by staff.