Alumna finds theatrical success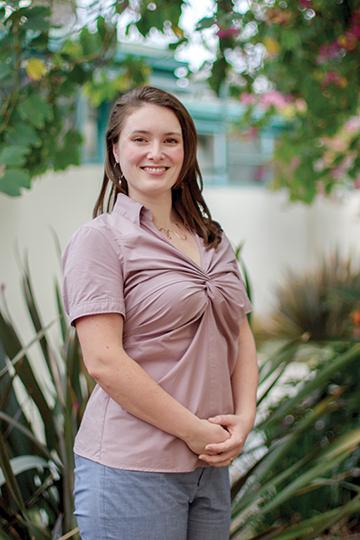 Michelle Caron is the lighting designer of a play now showing at the Cygnet Theatre, "Maple and Vine." She's a San Diego State alumna and has worked on many shows around the world.
The Daily Aztec: Can you tell readers a little bit about yourself and what inspired you to become a lighting designer?
Michelle Caron: I was inspired to become a lighting designer by accident. I started as a performing arts major in my undergrad, mostly as an actress. When I came back from studying abroad in Europe, I had a couple of extra credits to fill and took a lighting design course on a whim. It was really fun and I had an opportunity to design a show at my school in Scotland and continued working after I graduated.
TDA: Did SDSU help train you for this position?
MC: I got my master's at SDSU. I had a professional career before I came here. However, one of the things that I really appreciated about this school was the faculty. They are incredibly dedicated to the success of their own students and they all have an excellent professional background that they can draw from to instill great ideas in their students.
TDA: What are some of your favorite shows that you've worked on and why?
MC: In terms of from a work perspective, (when I) toured with Cirque du Soleil for a couple of years before I came to SDSU. I toured with "Corteo" and "Quidam" and worked on "Ka" in Las Vegas for a while. I wasn't on the design team there, but I worked on the electrical team. What all three shows taught me is that to create and maintain an amazing looking show takes a lot of work. You can't cut quarters, and while this can be frustrating, the final product is always better for the work you put on early on in the process.
From an artistic perspective, I had the opportunity to assist a lighting designer, Robert Wierzel, on the Boston Lyric Opera's production of "Madama Butterfly." Our tech was when Hurricane Sandy hit the East Coast. We lost a couple of days and had a bunch of people who got stuck out of town, because of weather, traffic, etc. A combination of watching consummate professionals put together a show—put together against high-pressure circumstances—and have it be a gorgeous production was really excellent.
TDA: What's the most difficult aspect of your profession?
MC: There are a lot of really talented people working, and sometimes there isn't a lot of work. You have to distinguish yourself in some way to be competitive from a business aspect.
TDA: Any advice for students studying lighting design?
MC: Learn about lots of different things. Don't feel like you can't be interested in something just because you don't think it applies to lighting design. It's good to know about technology and how the process works, but if you love history, art, comic books, etc., don't feel like you should ignore those passions. Lighting design is so collaborative that it's really important to form relationships and friendships with the people you work with.
Also read: Professor loves legendary auteurs
Photo by Kevin Serrano, staff photographer