Swimming and diving finishes regular season undefeated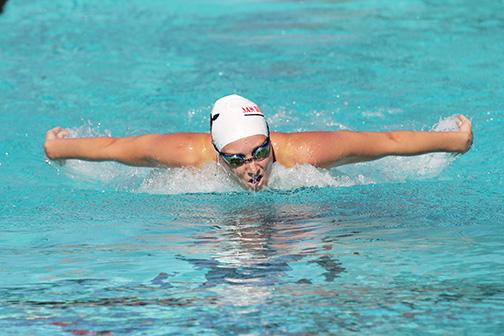 The San Diego State swim team capped off a perfect season with a 144-126 victory against its crosstown counterpart, the University of San Diego Toreros, on Saturday afternoon at the Aztec Aquaplex. The Aztecs are 11-0 for the 2013-14 season.
[quote]"It's really exciting going undefeated," senior swimmer Livvi Sefton said. "We swam against our conference rivals, Boise State, over winter break and came out on top, so I think it has given us confidence going into the championship meet."[/quote]
This year's campaign marked the fifth consecutive season the Aztecs finished undefeated at the Aztec Aquaplex, where they have lost only three times since opening for the 2007-08 season.
There isn't any obvious reason for the team's success at home, Sefton said.
[quote]"It's not much different swimming at home than any other pool," she said. "We always try to get a home pool feeling wherever we are in warm-up."[/quote]
Sefton, along with three other senior swimmers and divers, including Jordan Hanna, Mikaela Macklin and Anna Steiner, were honored in a pregame ceremony for their final performances at the Aztec Aquaplex.
Sophomore swimmer Whitney Weisz took the spotlight on Saturday's meet, placing first in the 50-yard, 100-yard and 200-yard free style. Her 23.77 second mark for the 50-yard free style was the seventh-fastest time ever recorded at the Aztec Aquaplex, according to goaztecs.com.
Saturday's meet also marked the second time these teams have met in the last five months. The Aztecs took an 18-6 victory in the first meeting.
The Aztec divers were also present during Saturday's event, placing first in both the 1-meter and 3-meter boards. The divers will compete next weekend at the Air Force Diving Invitational in Colorado Springs, Colo.
Both swimmers and divers will be back in action in three weeks, when they will attend the Mountain West Conference Championships at the Palo Alto College Aquatic Center in San Antonio.
Photo by Kelly Smiley,  Staff Photographer