Love Library Instagram contest aims to inform students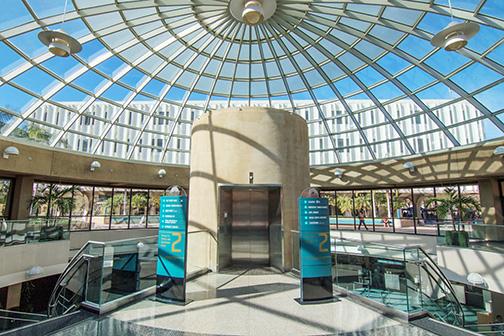 Earlier this month, the San Diego State Love Library began an Instagram contest to engage students through social media. The contest will run through Feb. 28.
As part of the contest, students must take the new virtual tour created earlier this year. The tour was made to assist students and visitors exploring the library and is available on any mobile devices.
Any SDSU student can participate and submit their favorite photos of the tour through Instagram with the hashtag SDSUlibrarytour.
The collaboration with Instagram and the tour is to encourage student participation.
"Recently we've started using Instagram to share pictures of cool books, art in the building and library events," Jarocki said, "The librarians in Special Collections and University Archives are doing 'Throwback Thursday' with vintage photos of the library from the archive."
The library decided to create a way for students to interact with the library and earn prizes.
"The purpose of the Instagram contest is to promote the new mobile library tour, and also to give students the chance to share things they like about the library," Jarocki said.
A group of librarians and staff will judge the photos based on quality of the photo, overall creativity and how the photo represents what the individual enjoys about the library. The four winners will be notified by March 5 and will receive a $25 Aztec Shops gift card.
"It sounds like an interesting thing to be apart of, I would consider seeing what the tour has to offer and then possibly join in on the contest," psychology freshmen Sonya Dorador said.
Some students, including chemistry freshmen Clarifelle Escuadro said they didn't know about the tour.
"I wasn't aware of the contest, but now that I am I would try the tour in my free time and see what I can benefit from our library," Escuadro said.
A group of librarians, including reference librarian Zoe Jarocki and digital technologies librarian Keven Jeffery, created the library's virtual tour to showcase available services. 
Jeffery said the virtual tour was released this semester in an attempt to reach a wider audience than the traditional library tour
Jeffery programmed the tour, assembling the quick response codes, short urls, and NFC tags for increased mobile access.
The tour begins at the circulation desk and continues through the entire library with QR codes to scan along the way. Once these codes are scanned information regarding that section of the library appears on mobile devices. The tour takes about 30 minutes to complete.
"We do not yet have any statistics on usage, but we may look to replace our guided tour with the self guided tour if it is shown to work," Jeffery said.
Photo by Kevin Serrano, staff photographer.