Smoking ban to be socially enforced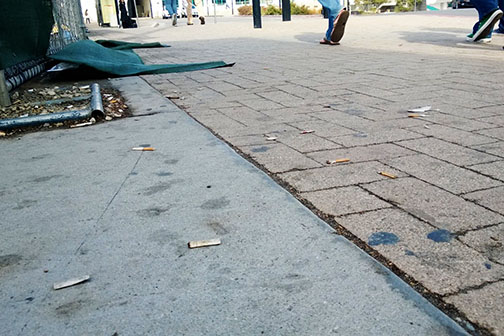 On Jan. 1, San Diego State adopted a 100 percent smoke-free campus policy. The ashtrays are gone and the designated smoking areas are blocked off, but the details on how the ban will be enforced are still hazy.
SDSU Senate Chair Bill Eadie said "social enforcement" is the only way to enforce the smoking-ban.
"If there is a small minority of people who ask individuals they see smoking to stop and point out that there is no smoking on campus, those actions will speed the process," Eadie said.
Unfortunately, some students, including economics senior Taylor Slesinski, are not willing to go out of their way to ask others to stop smoking on campus.
"If the individual smoking was clearly affecting me and the people around me then yes, I would probably approach them," Slesinski said.
Chemistry freshman Zach Denado has a different opinion on the new smoking ban.
"I think that the whole smoke ban is pretty ridiculous, to be honest," Denado said, sitting at one of the former designated smoking benches with a cigarette in hand. "Last year when we did have designated smoke areas, they actually had some sort of control over where we were going to smoke, and people did respect it. We had ashtrays and we used them."
Denado said now that designated smoking areas, along with the ashtrays, are gone, people are going to smoke wherever they want and leave their cigarette butts on the ground.
According to SDSU Chief Communications Officer Greg Block, if people are concerned with the discarded cigarette butts they can contact facilities services via their Work Control Center email to have the area cleaned up.
SDSU created a website to provide students, faculty and staff with a resource to find out more about the new policy. It encourages members of the SDSU community to engage in "direct, honest, and supportive communication" when addressing the issue. If social enforcement does not work, the University has the authority under state law to issue fines to violators. The fines will not be more than $100, Block said.
"It may take some time for people to get used to the fact that smoking is no longer allowed on campus," Eadie said. "I think you'll find that people will comply, for the most part, much more quickly than you might expect."
CSU Director of Public Affairs Mike Uhlenkamp said the goal is to have 100 percent smoke-free policies implemented on all CSU campuses. As of now it is a work in progress, he said. Uhlenkamp said it is up to each individual university to go "above and beyond" with the implementation of their policies.
Photo by Jimmy Thibault, staff photographer