Imagine Dragons justify Grammy win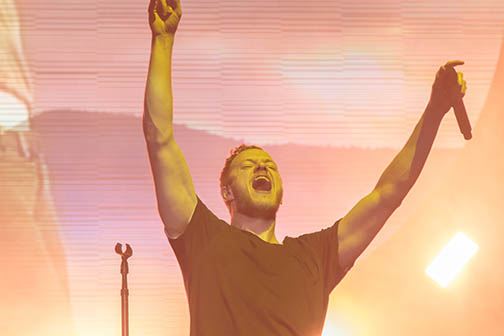 San Diego welcomed the Into The Night tour last Saturday with a lineup, that was sure to make San Diego State students feel the musical love in the air. Fresh from winning the Grammy for best Rock Performance, Imagine Dragons shook the sold-out Valley View Casino Center .
With opening act by rock band Nico Vega, lead by singer Aja Volkman who is married to Dan Reynolds, lead singer of Imagine Dragons, songs such as "Beast" set the mood for the night . Followed by The Naked and Famous, who will be playing at Coachella, the audience took to their feet with hits ranging from "Young Blood" and "Punching In A Dream" off the bands first album to "Hearts Like Ours" from the group's sophomore album, "In Rolling Waves."
At precisely, 9 p.m., Imagine Dragons took the stage and captivated the audience for nearly two hours, with Reynolds energetically controlling the floor. With the band's signature drums spread across the stage, drummer Daniel Platzman, guitarist Wayne "Wing" Sermon and bassist Ben McKee elevated the up-tempo performance and kept the rhythm harmoniously through the night with songs from the band's Grammy nominated album, "Night Visions."
Finishing the set with fan favorites "On Top of the World" and "Demons," fans were left in awe waiting for the finale, "Radioactive." The audience erupted as the opening guitar rifts lead to the literally breath talking verse, "I'm waking up." Fans adamantly sang along in concert to each word of the band's extended version of the song. Follwing the last note, fans chanted for an encore. Needless to say, the best Rock Performance delivered. The band came back to perform "Nothing Left to Say/ Rocks," with a special appearance by The Killers' guitarist Dave Keuning.
In the past two years the band has solidified its rock star status. Since playing in San Diego in October of 2012 with SDSU-based band The Room Downstairs, Imagine Dragons' hit song "It's Time" can be heard across America on every popular radio station. With a few more stops on its tour, there's no telling what this band is going to produce with its next studio album. My only advice is to see this band live sometime in the not too distant future.
Also read: Weekend Picks: Exciting concerts in town
Photos courtesy of Kevin Serrano