Teagan Taylor Trio charms jazz fans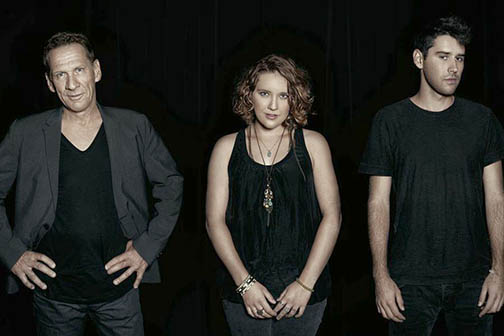 From The Jackson 5 to Hanson, family bands have been charming audiences for decades. The Teagan Taylor Trio is composed of San Diego State student Teagan on lead vocals and cornet, her father Tim on guitar and her twin brother Dylan on bass. This charming jazz ensemble performs regularly at various venues around San Diego—I checked them out at Hooleys Irish Pub and Grill in Rancho San Diego. The venue was not small, but felt cozy, which complemented Teagan's sweet, mellow voice. The set list included a variety of original tunes and covers of jazz standards, pulling from all of the trio's three albums. Both Tim and Teagan wrote the original songs for the group. Oh, and did I mention that her mom, Roberta, is the band manager?
Having heard all of the material from the trio's latest album, "Hello," I couldn't help but singing along to the familiar tracks. Teagan's cornet solos are evocative yet simplistic; she balances perfectly between "too much" and "not enough." Tim's bluesy guitar solos allow the group to explore different genres, along with soul and R&B stylings in their vernacular of songs. This synthesis of genres is what gives the Teagan Taylor Trio their unique, ear-catching sound.
The chemistry between these three is undeniable—they have a great time on stage, and the audience can't help but follow suit. I couldn't help but admire  Roberta's dedication as she alternated between chatting up listeners, attending to managerial duties, and mouthing all the words to the songs in between.
The Teagan Taylor Trio is rapidly gaining popularity, both in San Diego and across the U.S. The group performs in various venues around town, including 98 Bottles, Hooleys, Dizzy's and Upstart Crow. Their 2012 summer tour took them to the East Coast, including multiple performances in New York. After hearing the trio live, it is undeniable that its ever growing popularity is well deserved.
The Teagan Taylor Trio put me in a great mood that lasted all night. Teagan's introductions and descriptions of songs made me feel like she was talking to me personally, heart-to-heart. Her genuine sweetness lends hand to her skills as a compelling frontwoman to a solid band. The unique fusion of music, family and genres that encompasses this group makes listening to the Teagan Taylor Trio an unforgettable experience.
Also read: IDGAF with Wolfgang Gartner
Update: This article has been edited to mention that Tim only played guitar during the night of the show 
Photo courtesy of reverbnation.com.