Swimming and diving places second at MW Championships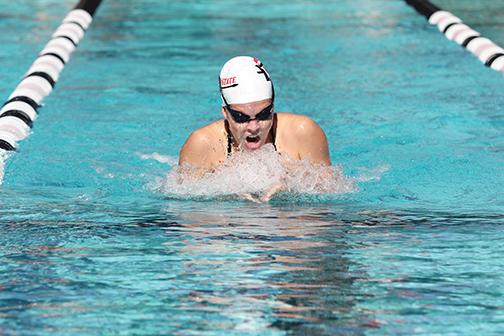 After an undefeated regular season, the San Diego State swim team fell to rival Boise State University at the Mountain West Championships in San Antonio. The Aztecs, looking to defend their 2013 MW title, placed second with 633.5 points.
After day one of the championship meet, SDSU was down one swimmer after losing freshman Samantha Guttmacher to a neck injury.
[quote]"She tore a ligament in her neck on the first day of the meet, so we had to call 911," senior captain Mikaela Macklin said. "The ambulance had to come get her off the pull deck. By the end of the first day we were down one swimmer, and on top of that we all had to get her off our mind to be able to race."[/quote]
The Aztecs ended up finishing the first day of the championship meet in third place—behind the University of Nevada, Reno and Boise State, respectively—and were able to inch their way closer to first place by the end of the second day. Though they were able to climb out of third, SDSU was not able to surpass a second-place finish.
It wasn't all bad news for the Aztecs this weekend, though, as head coach Mike Shrader was honored as the  MW Women's Swimming Coach of the Year for the fifth time in his career.
"I've just been blessed by the good Lord," Shrader said. "I've been blessed with such wonderful, talented young ladies that make my job that much easier."
Macklin, who was named MW Swimmer of the Year at last year's Conference Championship meet, was also honored this weekend, taking home the MW Senior Award. The award recipient, who is selected by the Conference's head coaches, was determined prior to Saturday's finals.
"It was a big honor, because it means they respect me," Macklin said. "It was nice being honored by the whole conference. 
Freshman Anika Apostalon, who captured three individual titles at the Championship meet, was awarded both the MW Freshman of the Year and MW Women's Swimmer of the Year. Apostalon is only the second freshman swimmer in league history to earn the MW Swimmer of the Year honor.
"Honestly, I'm just happy to keep improving my times and having my team there to support me," Apostalon said.
Apostalon would also go on to set the MW record time for the 100 backstroke, clocking in with a time of 51.92, as well as the MW record for the 100 freestyle, with a time of 47.73.
Thus far, the Aztecs are only looking to send Apostalon, along with three other SDSU swimmers who turned in 'A' Cut times in the 400 free relay, while waiting to hear what other swimmers qualify to swim at the Minnesota Aquatic Center at the University of Minnesota in Minneapolis.
[quote]"Everyone put their best effort in; we all performed well," Apostalon said. "It feels like we won, because everyone did so well. It's fueled everyone to go faster for next year."[/quote]
Photo by Kelly Smiley, staff photographer