Hunger hiatus to the Himalayas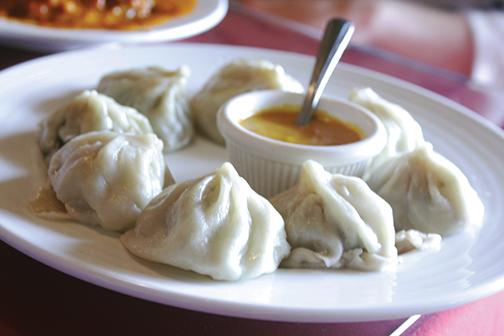 "Namaste!" a server in a diamond-patterned dress says. It's the first sound one hears when entering La Mesa's Himalayan Cuisine. Nestled next to the 99 Cents Only Store and El Torito, this piece of the East Indies is a restaurant that blends Indian, Tibetan and Nepalese food.
Himalayan Cuisine provides enjoyable meals and an engrossing atmosphere that makes for a great date or group event. Who wouldn't want to be transported to Tibet for an evening? The decor is Himalayan Cuisine's prime attraction. Copper and sage-colored Hindu symbols cover the ceiling, auburn palm-frond fans hang just below them and faded paper lanterns sway above every table. Servers dress in identical maroon and green garments. Is it authentic? I have no idea. Regardless, the ambiance is stellar.
Himalayan Cuisine offers a wide array of Eastern dishes, including the concoction of meat and vegetable rice that is biryani, momo dumplings and meats cooked in the uniquely Indian tandoori oven. Himalayan Cuisine also has an expansive vegetarian offering, with more than 20 options for tarkari, a vegetable curry. If curries and masala scare you away, don't hesitate to chow down on some naan, a wafery half-breed of pizza crust and pita bread. I even took some to go.
I embarked on my Himalayan journey with a dive into the lentil soup, a grainy gold broth of lentil and garlic goodness. Next I ventured to the kukhura ko momo, which are pleasantly moist chicken dumplings. These are served with the "Special Himalayan Sauce." Again, I'm not too clear on what "Special Himalayan Sauce" is, but it was good. The chicken masala is lathered in a tomato sauce that balances creaminess and tang, and the lamb vindaloo is a rich and brusque meat morsel served with potatoes. Both are also worth your while.
Steam leaped from a hulking tandoori chicken plate on a table behind me, its contents cooked in a clay oven particular to central Asian cooking. The steam pillar was a rare moment of excitement for patrons. Himalayan Cuisine is seldom bustling or noisy, but the restaurant amends its lack of heavy traffic in other ways.
"You can escape here tonight," the decor seems to whisper in a seductively adventurous tone, and that's the beauty of Himayalan Cuisine. It's something different. Cruise 10 minutes east of San Diego State for an expedition without ice picks. The only prerequisite is a sense of adventure.
Photos by Senior Staff Photographer Jordan Owen.