'Team' is the theme as men's golf wins Jones Sports Invitational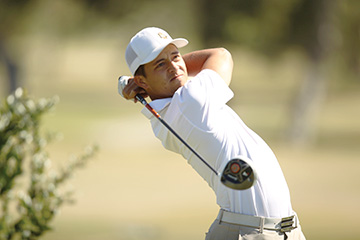 The San Diego State men's golf team took home its first team title of the season last week at The Jones Sports Invitational in Somis, Ca. The Aztecs' combined score of 17 over par was enough to edge No. 22 ranked University of Southern California by one stroke.
Last year's Mountain West Freshman of the Year Riccardo Michelini led the way for SDSU, tying USC's Anthony Paolucci for the lowest score in each of the first two rounds, shooting 70 and 73 at the par 72 Saticoy Country Club.
After joining the team late, Michelini is back on his game after a slow start. What was even more impressive than his low scoring was his exhibition of selflessness prior to the final round.
"Whatever happens, I just want to win for the team," Michelini told head coach Ryan Donovan. "Whatever I need to do coming down the stretch just let me know."
That team-first attitude tells you all you need to know about the character and leadership skills he possesses as a sophomore.
"He could easily have tried to make birdies down the stretch and try to win the individual award," Donovan said. "He had a putt he could have gotten aggressive with on the last hole, but instead he just got it up by the hole so we could win the team title. He's just that type of guy."
Michelini's third round 74 was one stroke off of the lead, earning him a second place individual finish.
A total of 12 schools competed in the Jones Sports Invitational. Five players from each University compete and cumulative scores of the team's best four players are counted. Although Michelini stood out on the scorecard, winning the team title would not have been possible if it weren't for four Aztecs finishing inside of the top 10. The Aztecs shot just four over par as a team on Tuesday's final round, which was five strokes better than USC.
SDSU led the tournament with 162 total pars, and finished second in birdies(38), par 4 scoring(+28), and par 5 scoring(-12).
The 39th ranked Aztecs will host their next tournament, The San Diego Classic, on March 10th and 11th at the San Diego Country Club in Chula Vista.
Photo Courtesy of Stan Liu, SDSU Athletics