Hollywood Happenings: Featuring Matthew McConaughey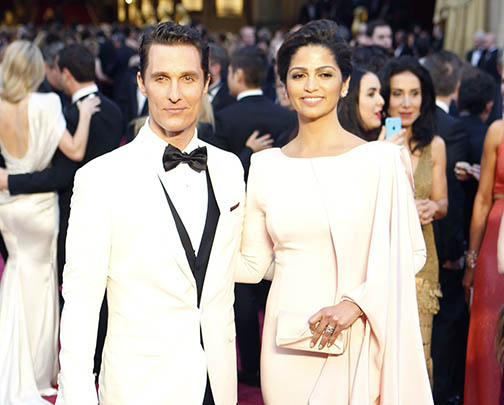 Celebrity of the week (Brooke Schlyer):  
Actor Matthew McConaughey received top honors in the entertainment industry by taking home the Oscar for Best Actor in a Leading Role at the 2014 Academy Awards in Los Angeles on March 2. McConaughey won for his role in the historical drama, "Dallas Buyers Club." The film also featured Jennifer Garner and Jared Leto, who won Best Actor in a Supporting Role. In his heartfelt acceptance speech, which can watched online, McConaughey thanked God, his family and his "future self" hero for making him the person he is today and for the opportunities he's had in life.
Sightings (Brooke Schlyer):
San Diego State film alumnus Destin Cretton attended the 2014 Independent Spirit awards in LA on March 1. Cretton's film "Short Term 12" was nominated for several awards, including Best Editing by Nat Sanders, Brie Larson for Best Female Lead and Best Supporting Male for Keith Stanfield. Nat Sanders took home the award for Best Editing for "Short Term 12." Sanders said, "This film was one of the best experiences of my life," Sanders said, according to Deadline Hollywood's website. This is Cretton's second feature-length flick. His first, "I Am Not a Hipster," received warm reviews at the 2012 Sundance Film Festival, and is available on Netflix Instant.
"The Tonight Show" host Jimmy Fallon dove into freezing Lake Michigan waters for the Polar Plunge on March 2. Chicago Mayor Rahm Emanuel challenged the former "Saturday Night Live" funnyman to take the plunge, which benefits the Chicago Special Olympics, according to Popsugar. Fallon posted a picture on Instagram with the caption, "Officially PLUNGED!!!!! Thank you Chicago!!! Thank you Mayor. #polarplunge #coldneverbotheredmeanway #frozen."
Romance (Bekah Haynes):
Former co-stars and newly engaged couple Ashton Kutcher and Mila Kunis were seen together at the Lakers game last Tuesday night. Kunis flaunted her engagement ring, putting her hands up as she would sweetly kiss her fiancé.
Kunis isn't the only star who's recently been engaged and about to enter wedding-prep mode. Hayden Panettiere opened up about her engagement to boxer Wladimir Klitschko and is even going to be on the cover of the April/May issue of Brides magazine, according to Eonline.
Trivia (Bekah Haynes):
1. Where were the 1st Academy Awards held in 1929?
A. Hollywood & Highland Center B. Staples Center C. Hollywood Roosevelt Hotel D. Dolby Theatre
2. This talented actor won the Oscar award for Best Actor in a Leading Role this year. It was his first Oscar nomination as well as his first win.
A. Leonardo DiCaprio B. Christian Bale C. Bruce Dern D. Matthew McConaughey
3. How many Oscar statuettes have been presented, since the first Academy Awards held in 1929?
A. 2,809 B. 1,415 C. 507 D. 96
4. This celebrity returned to host the 86th Academy Awards, seven years after she hosted the Oscars for the first time. She proved to be an extremely entertaining emcee as she even ordered pizza for the stars during the show.
A. Whoopi Goldberg B. Anne Hathaway C. Ellen DeGeneres D. Oprah Winfrey
5. This actress was awarded the Oscar for Best Actress in a Leading Role this year for her role in the movie "Blue Jasmine."
A. Sandra Bullock B. Cate Blanchett C. Amy Adams D. Meryl Streep
Answers: 1. C 2. D 3. A 4. C 5. B
Also read: Hollywood Happenings: featuring Kid Cudi
Photo courtesy of Wally Skalij/Los Angeles Times/MCT