Rap concert was far from childish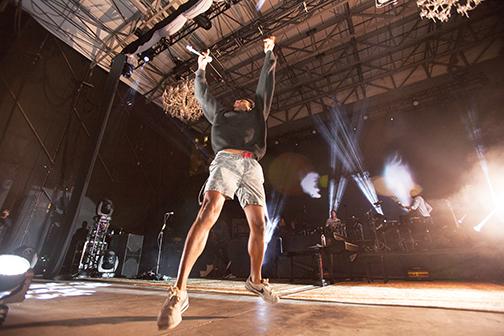 Aztecs were treated to a special night last Monday, as Childish Gambino, aka Donald Glover, took over the Cal Credit Union Open Air Theatre. Fans were spotted lined up outside the gates as early as noontime, eager for an exciting show.
As the clock hit 7 p.m, students snaked their way into the theatre, many of them hoping to make it into the pit that night. Concertgoers were encouraged to download Gambino's "Deep Web App," specifically created for his new tour. The app gave fans the ability to uniquely interact throughout the concer, with one of the most notable features that allowed fans to write and draw out special messages, which showed up on stage. Though it was an unconventional route (not everyone wants to be on the phone throughout an entire show), it's certain that Gambino is working to blur the lines between the Internet and real life.
Gambino took to the stage in energetic fashion. Backed with his own house band, he delivered hit after hit from his sophomore album, "Because the Internet." Older fans were given a treat as he performed a quick mash-up of his older hits, including "Freaks and Geeks," "Bonfire" and "Yaphet Kotto." Set pieces littered the stage to accentuate his story-telling ability, with animated visuals transitioning him from one song to another.
The crowd came alive as he performed some of his bigger hits, such as "3005," "Sweatpants" and "Worldstar." The crowd seemed insistent to hear song after song rather than stepping back, enjoying the performance and embracing Gambino's keen sense of storytelling.
San Diego was even given a shout out, as Gambino took over the mic to deliver a killer "San Diego" freestyle. Accompanied by the immensely talented house band, this small break in the "Deep Web" story really highlighted Gambino's knack for clever wordplay and top-notch flow control. The curtains came to a close just before 9:45 p.m. Fans weren't ready to go home just yet as they called out to him for one last song.
Lucky for us, Gambino couldn't say no to San Diego. Performing a medley of older tracks dating back to his mixtape days, Gambino kept the party going for a little bit longer. Though it was a steep ticket price for what turned out to be more than an hour and a half performance, Gambino was a one-man show, full of unbelievable energy as he fed off the crowd and gave it all back in return. We hope to see him in San Diego again soon.
Also read: Childish Gambino ready to bring "Deep World Tour" to SDSU
Wesley Beights, Staff Photographer