SDSU Flute and Piano faculty entertain noon concert crowd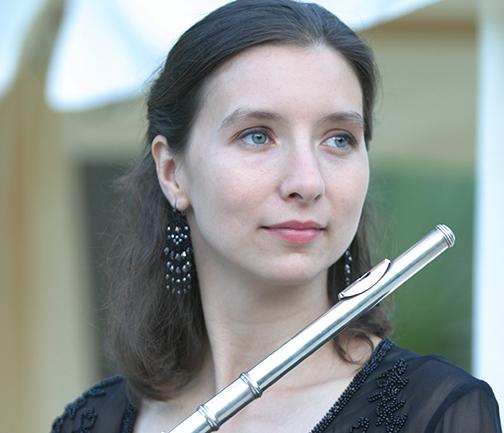 For most people, epic flute playing is associated with Ron Burgundy's memorable jazz flute solo in "Anchorman." However, Burgundy's flute prowess doesn't stand a chance against San Diego State flute faculty member Pamela Vliek Martchev. On Wednesday, March 5, I attended one of the weekly noon recitals put on by SDSU's School of Music and Dance. These recitals are usually free for both students and the public. Although many students are unaware of this concert series, it features a wide range of genres and performing groups consisting of students, faculty and outside performers. This particular concert featured Martchev, accompanied by piano faculty member Karen Follingstad.
Upon scanning over the program I noticed each faculty member's long list of credentials. Martchev, the featured flute soloist, is world-renowned. She has played with the San Diego Symphony, L.A. Philharmonic and L.A. Chamber Orchestra, in addition to various festival symphonies. This list of certifications is not surprising once you hear the way she plays the flute. Accompanying Martchev on the piano was Follingstad, whose list of accolades is nothing to scoff at. She has taught at various universities and performed throughout Europe and North, Central and South America.
Martchev opened the recital with an uplifting Bach sonata in E-flat major. Her sweet tone seems to float out into the audience, accompanied by a very expressive piano continuo (a part traditionally played on harpsichord in Bach's time) from Follingstad. I thought this was good choice for an opening piece—the movements weren't too long, so it was easy to pay attention. I really appreciated the synergy between Martchev and Follingstad when they were playing extreme fast, sixteenth-note passages at the same time. They were so "together" that it almost sounded like only one person was playing.
The second piece on the program, Friedrich Kuhlau's Grande Sonate, was definitely the "show-off" piece of the program. This four-movement work highlights the flute's wide dynamic range and ability to play very fast, double-tongued rhythmic passages. Admittedly, 50 minutes of flute music on a full stomach can make one a little sleepy. However, any time my attention started to waver, something interesting in the music reeled my attention back in. The energy that both Martchev and Follingstad brought to the stage added an extra element of excitement to the music.
Although this music has been performed countless times in the past, no two live performances are the same. Their performance was fantastic because they each brought their own unique background and musical abilities to the stage. After hearing Pamela Vliek Martchev and Karen Follingstad, it is clear that SDSU's flute and piano students are in good hands.
Also read: SDSU Brass toot their own horn
Photo courtesy of pamflute.com