A.S. Vice President of Financial Affairs candidate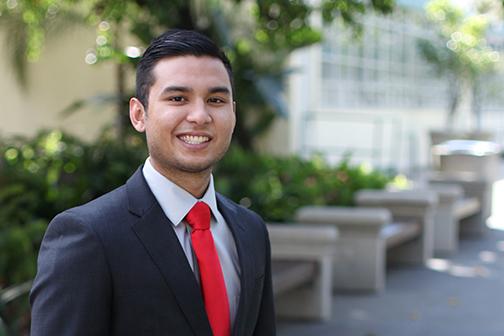 Position: Vice President of Finance (unopposed)
Name: Alex Padua
Year: Senior
Major: Finance
What is your main goal for the position?
My number one goal and duty as vice president of financial affairs is to ensure that all students benefit and are positively impacted by the allocation of the Associated Students budget.  It is important to me that our facilities, campus programming and student organizations all receive the necessary funds to function, providing beneficial opportunities for all students.
Why do you think you will be a good fit?
Through my involvement and San Diego State experience, I have been able to gain a broad perspective of the student body and our community as a whole.  Vice president of financial affairs is an opportunity to serve and benefit my peers.  I believe that we are a growing campus, and I want to be a part of the organization that spearheads that movement toward national prestige.
What are some past leadership experiences that have prepared you for the position?
My past experience as president of my fraternity and leading its executive board has allowed me to recognize what fosters growth within an organization, but more importantly how to facilitate growth for its individuals.
Also, as a member on the executive board of the Finance and Investment Society, I have been a part of the movement to build strong relationships between members, business professionals, and alumni alike.
Currently, I am also a Financial Affairs Committee member, which has given me insight on the finances of A.S.  This role has also given me the opportunity to be a part of the oversight, management and allocation of A.S. funds.
What other Campus affiliations do you have?
As a member of the SDSU Cast, a group of students hand picked by the associate vice president of student affairs, I have had the opportunity to attend high-profile university and community events.  Through the SDSU Cast, I have also presented to student organizations on a variety of topics including college life, leadership, service and values. In addition, I am a serving member of the San Diego State Rotaract, a service organization considered to be the top 50 leaders on campus, priding ourselves on providing "Service Above Self."  I am also a student in the Educational Opportunities Program, which has provided me with awesome opportunities throughout my college career.
What is one interesting thing about you?
I was my high school's mascot for a few games and never told anyone.
Photo by Monica Linzemeier, photo editor