A.S. Executive Vice President candidate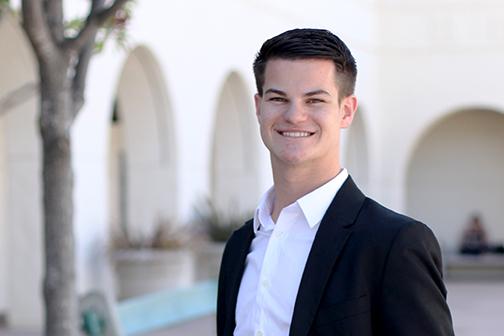 Position: Executive Vice President (unopposed)
Name:  Kevin Hancock
Year:  Junior
Major:  Hospitality and Tourism Management and Spanish
What is your main goal for the position?
My main goal for this position is to provide students with opportunities to be proud of San Diego State through their involvements on campus.  It is important to me that students have access to every opportunity to get involved on campus.  I want all Aztecs to be proud of where this university has been, where it is, and where it is going.
Why do you think you would be a good fit?
I feel my love for SDSU and experience shadowing the current A.S. executive vice president makes me a great fit for this position.  I understand the benefits of getting involved, I understand how A.S. operates, and I understand the university as a whole.  My entire time at San Diego State, I have been working to engage and involve the student population, and get them excited about the university and I am excited that this role gives me the opportunity to do so.
What are some past leadership experiences that have prepared you for the position?
My past A.S. involvements include the Freshman Leadership Experience, which provided me the opportunity to shadow former A.S. executives as a freshman, as well as the A.S. Representative for the College of Arts and Letters.  I have also served as the president for the College of Arts and Letters for the past two years and have also had many voting seats on other A.S. boards, including the Board of Directors, Academic Affairs Committee, Restructuring Committee, Executive Committee, and the President's Cabinet.
What other campus affiliations do you have?
I am an active member of Aztec Pride, and I have been working as a Student Assistant at the SDSU Alumni Association for the past year-and-a-half.
What is one interesting thing about you?
One interesting thing about me is that I have never missed a regular season home football or men's basketball game.