Rap has 99 problems and the lyrics are one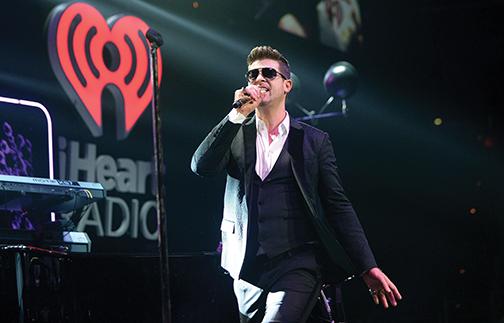 On any given Saturday in any club in San Diego, you'll find masses of people laughing, talking and dancing. The mood of the club is filled with a lighthearted energy and suddenly that song comes on that gets every guy rushing to grab a girl and every girl twerking to her fullest.
The bass drops, the volume gets louder and everyone sings the chorus together, "To the window … to the wall, 'til the sweat drops down my … All skeet skeet."
Something about the combination of the rhythm, the beat and the environment makes us forget about what is truly being said through the loud speakers. While we mindlessly listen to these lyrics, they infiltrate our brains subconsciously.
Even though we love to dance and listen to artists such as 2 Chainz and Tyga, I believe a majority of these songs are more influential to our lives than we think. These lyrics are restructuring how we think of love and relationships.
When last summer's theme song "Blurred Lines" by Robin Thicke hit, it could be heard on the radio at any given time. Most people didn't catch that the lyrics "I know you want it," could come off forceful. Many people also may have taken a blind eye that all the men were clothed and the women were prancing around naked in Thicke's video.
"Blurred Lines" sent feminist groups into an uproar stating that the lyrics were insulting women. Although Thicke claimed that he had no ill intent, it rubbed many women (and men) the wrong way. [quote]While the song is catchy, after examining the lyrics it made me think that maybe I didn't "want it."[/quote]
Rap, a major genre of our generation, constantly receives shame for its misogynistic views and it definitely plays a part in the mindset of my fellow millennials.
Rick Ross' verse in "U.O.E.N.O." stated, "Put molly all in her champagne, she ain't even know it. I took her home and I enjoyed that, she ain't even know it." The lyrics Ross raps aren't even disguised by metaphors to make people guess; they are straightforward for society to view as if it's acceptable. Ross received backlash and because the lyrics were so criticized from the public, Reebok dropped Ross as its spokesperson.
Jay-Z has also taught young men that you could have up to 99 problems, but yet, a girl will never be one. Was Shawn Carter stating this because he always treats his woman right, or because women could never be problematic since they are disposable?
[quote]On top of the misogyny that's faced in hip-hop music, when a rapper does speak of heartache (i.e. Drake), the male community bashes him for expressing his vulnerability. Are men supposed to be unemotional and devoid of all thoughts and feelings?[/quote]
With these examples of misogyny in music, many women have been sensing that the music industry and men of the 21st century still don't get what females want or need out of a relationship.
I can't help but agree that many college-aged men and women are looking for something casual. Some men love the idea of "having bitches" rather than having "the one." There seems to be no backfire, since they're glorified by their fellow male friends for having multiple girls versus that one girl they are committed to. It seems as if we are being rewarded on the quantity of partners versus the quality of one person.
As much as I would like to blame this on the forever patriarchal country that we live in, I have to admit that the ladies do have a part in this. Lately, all I am being told is to twerk like Miley, pour it up like Rihanna, and post booty selfie shots in my white bikini like Kim K.
With the influence of many female icons, this can create a distortion on what society considers a "lady."
For preteens around in 2010, gender roles can be tricky. Women are on a tightrope, trying to balance between being  "Good Girl Gone Bad," and yet not being too promiscuous at the same time. The "lady in the streets but a freak in the bed" philosophy is becoming more complex and both genders are starting to wonder how to act in front of the opposite sex.
[quote]For women, if we're too reserved, we're prude, but if we're too sexually open, we come across as loose. In the post-feminist world, being a lady is harder when you realize how wide the spectrum has become on what is acceptable. [/quote]
So what exactly has American music come to? It makes me wonder if we really have progressed as a country from the highly patriarchal and sexually repressive country that we were in the early '60s.
As I look deeper into the history of music, I see that there is a shift from my grandparents' era. Thematic songs from the turbulent '60s, such as John Lennon's "Imagine" or Sam Cooke's "A Change Is Gonna Come," brought unity and assisted the youth protests in stopping the Vietnam War.
So my fellow millennials, all I'm asking is to take time to think of what you want our prime days to represent. What do you want the theme song of our generation to be? As catchy as the song is, I'm pretty sure "We Can't Stop" will be embarrassing to our grandchildren. Music is the soundtrack to our lives and the music that we choose to listen to will represent us in decades to come. It'll mold what the history books have to say about our generation.
It's okay to let loose while listening to music, but keep in mind of what you hear. You don't have to hook up with numerous people because a Tyga video made it seem glamorous, and you don't have to feel bad if you Drake and drive and end up cuddling with a person that you do truly care about.
The more that we are aware, the more we can change how we are perceived. If millennials refuse to give attention to misogynistic and dense lyrics, then more positive and thought-provoking songs might come our way. Then maybe, like the baby boomers, we can look back at our generation's music with pride for making a progressive impact.
Photo courtesy of MCT.