Nothing beats a California fest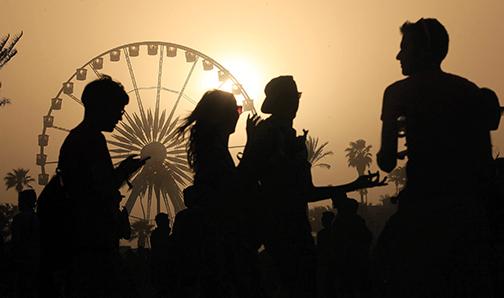 by Courtney Brown
April 10, 2014
It's spring and you know what that means. This is the time of year when hippies, punks and cowboys flock in massive waves to music festivals around the country. Luckily, Californians have a wide selection of weekend concerts that take place right here in the Golden State. So pick your poison and read on because it takes some skill to survive a music festival.
Coachella: (April 11-13 and April 18-20)
The Coachella Valley Music and Arts Festival is known for its blistering heat, flower headbands and, of course, waffle ice cream sandwiches-not to mention the killer lineups year after year. This year's big headliners include OutKast, Muse and Arcade Fire. However, the beautiful part about Coachella is seeking out the bands in five-point font. Those are the experiences that make the coolest memories. Whether you're a veteran or a rookie, Coachella never fails to provide the quintessence of what music festivals should be.
A tip for survival, besides the obvious sunscreen and water (which are always under-emphasized), is to avoid video cameras at all costs. Don't sign any release waIvers and don't talk to any fake reporters. This isn't coming from personal experience or anything, but just trust me.
Stagecoach: (April 25-27)
Also known as: the lamer version of Coachella. I'm sorry, but I think country music sucks. But if you're into that kind of thing, then Stagecoach is definitely the festival for you. The weekend is full of patriotism, beer and denim cut-offs. This year, headliners include Eric Church, Jason Aldean and Luke Bryan. Growing populations of young people are entering the country music scene, dusting off their cowboy boots, and getting in "rage-coach mode." If you plan on partaking in this rodeo, just stay away from the creepy cowboys.
Joshua Tree Music Festival (May 15-18)
The 12th annual Joshua Tree Music Festival is described by its official website as "an intimate setting, where the distinction between artist and audience is blurred, and a passionate performance can be truly relished in close proximity to the stage." Some may say major music festivals have become over-commercialized and have lost sight of the unity and frivolity music can bring. This down-to-earth event is like a time machine back to the Woodstock era and serves as a reminder that the true free spirit of rock and roll isn't dead. Let's be honest, could you identify any of the performers like Nahko & Medicine For the People or Acorn Project? Probably not, but that's what festivals are supposed to be about. These musicians are beyond stoked to play for an audience they can vibe off of, an audience that is simply happy to be enjoying good music and good people. Some tips for surviving the weekend include avoiding longhaired men passing around "herbal remedies," and if you choose to camp, don't be afraid of sunscreen.
Lightning in a Bottle: (May 22-26)
The name speaks for itself. This five-day electronic event is described as "a celebration of art, music, performance, sustainability, and life." This year's lineup features an array of groovy bands and DJs such as Moby, Phantogram and Baauer. The festival includes a multitude of other features such as artistic workshops, guest speakers and a series of yoga classes accompanied by a separate lineup of musicians. The Lucent Temple of Consciousness is the center of the festival and guides people in joining their body and mind.
A tip for survival, and this cannot be stressed enough: bring food and water. Camping in the middle of nowhere for five days can get to you. If the heat doesn't, it will probably be the hallucinogen-like mediation practices … or maybe something else hallucinogen-like.
Also read: 'The Sounds' of early spring break are in the air
Photo courtesy of Brian Van der Brug/Los Angeles Times/MCT