Kings of Leon were 'on fire'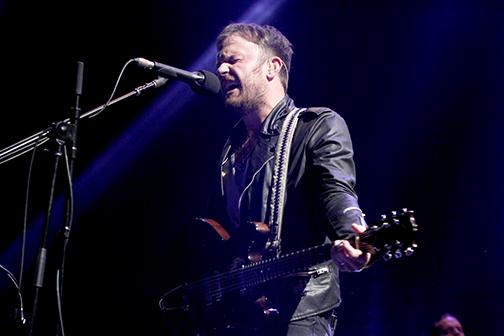 On Saturday night, following an explosive opening set by indie rockers Local Natives, seasoned rock 'n roll pros Kings of Leon took to the stage at the Sleep Train Amphitheatre.
On tour supporting the release of their sixth studio album "Mechanical Bull," brothers Caleb (lead vocals and rhythm guitar), Nathan (drums) and Jared Followill (bass guitar) and their cousin Matthew Followill (lead guitar) tore through their set with the precision and energy only a family band can bring to the table.
The band opened the set with a dark rendition of "Charmer." As Followill's lupine howls punctuated the droning garage rock guitars, the screen behind the band played a horror noir clips perfectly synced to each shout and strum.
For a band known for their down and dirty southern garage rock chops, it was surprising they opted for a choreographed, visually intensive light show instead of a plain rock show. Stage lights didn't even reveal the band behind the music until almost five songs in.
As the night went on, the Followill boys took the audience on a trip through each of their past albums, transitioning flawlessly from their massive arena-rock hits such as "Closer" and "Use Somebody" to their grungy lo-fi garage growlers such as "Molly's Chambers" and "The Bucket."
One of the biggest treats of the night was hearing their latest two albums play out on the big stage. Matthew Followill's blazing guitar solos on numbers such as "Radioactive" and "Temple" were reminiscent of Lynyrd Skynyrd during the glory days of southern rock.
The band's encore rendition of "Sex on Fire" spared no expense lighting up the night sky as all nature of lasers, confetti, fog and spotlights shot out in all directions, ending the show on a massive blowout note.
The band's raw power and the immersive presentation made for the kind of live show you would expect from a group that grew up in the American studio system. Expectations aside, the show was nothing short of spectacular.
Also read: Venue features unforgettable acts
Photos by Jordan Owen, Senior Staff Photographer