Living at the Residence Halls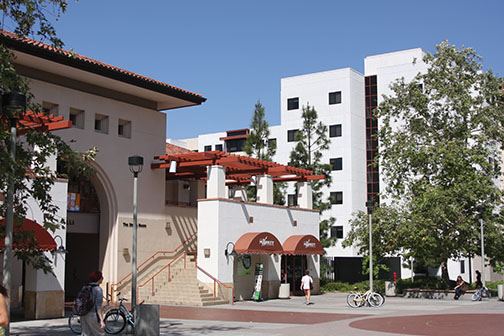 With a major residence hall temporarily closing, first-time freshmen and upperclassmen will have expanded housing options going into fall 2014. The Zura Residence Hall is set to close for reconstruction beginning May 2014 and remain closed until Fall 2015.
San Diego State's Office of Housing Administration began planning on how to accommodate approximately 4,000 students expected to live on campus next year.
Because Zura will be out of service, additional housing options will be necessary to ensure availability for students who were required or guaranteed on-campus housing. Zura housed more than 550 students this year, mostly freshmen.
"Since Zura is one of the biggest residence halls, there are going to be new housing options for the residents and some dorm rooms are going to be turned from doubles into triples to accommodate more students on each floor," resident advisor and English sophomore Sam Pfau said.
Even as some living options will change for next year, students are still able to request single, double, or triple room accommodations.
For the freshman living options, the residence halls, Granada and Piedra del Sol, there would not be a difference in price based on which hall or apartment complex students lived in. The only difference in price would be based on the type of meal plan the student selected and the room type – single, double or triple.
"They do not have a choice regarding a specific building as we do not want a price differential for each building to impact the accessibility of all students to be a part of a specific learning community," Director of the Office of Housing Administration Eric Hansen said.
According to the SDSU housing website, freshman living choices will start at $10,633 for a triple room with the 10 meals plan for 2014-15.
As for upperclassman arrangements, Albert's College Apartments and Villa Alvarado, students are able to pick between a double or single room in the apartment and can add an optional meal plan. Upperclassman living choices started out at $7,761 for a double room and no meal plan. Cost would not vary based on which facility upperclassmen were assigned.
Even as SDSU's housing office has made new options available to make room for enough students next year, nearby independently-owned apartment complexes have seen changes as their lease-signing period for next year begins.
"We have already seen an effect of this take place as our traffic, mostly incoming freshmen and sophomores, has increased tremendously since our last leasing season," Aztec Corner Leasing Coordinator Elise Alexander said.
Many privately-owned off-campus apartment complexes in College Area such as Aztec Corner provided other housing options for students looking to live away from home or closer to campus.
While off campus options are available, housing staff reassured that on-campus housing was most plausible.
"We try to get to know the residents so when they come back after class, it isn't just a routine, but a place they want to go to and a place they feel safe at," Pfau said. "Living in the residence halls is a great way to meet new people in a safe, homelike environment."
Academic support programs along with the convenience of living close to campus leads to higher retention and graduation rates as well as a higher likelihood of academic success, Hansen said.
2014-15 Housing Options
The following on-campus housing options will be available for Fall 2014.
Albert's College Apartments: Apartments reserved for the Aztec Journey Community sophomores, juniors, seniors, graduate, international and transfer students.
Chapultepec Residence Hall: High-rise traditional-style residence hall on the west side of campus. The hall closest to the Aztec Recreation Center and Aquaplex. An Aztec Market is located next to the building.
Cuicacalli Suites: A suite-style arrangement on the east side of campus comprised of Tepeyac & Tacuba residence halls.
Granada: A new option for freshmen. Apartment buildings located on the southwest side of campus.
Maya and Olmeca: traditional low-rise dorms on the east side of campus. Maya is the hall designated for students in the University Honors Program and staffed with Academic Mentors.
Piedra del Sol: A new option to freshmen. Fully-furnished apartments located on the southwest side of campus.
Tenochca residence hall: A high-rise traditional hall on the east side of campus.
University Towers Residence Hall: A high-rise on Montezuma Road. featuring semi-suite-style room, the University Towers Kitchen Dining Facility and an Aztec Market are next to the building.
Villa Alvarado: Furnished apartments with up to four residents per apartment that are located on the northeast side of campus. Reserved for the Aztec Journey Community sophomores, juniors, seniors, graduate, international and transfer students.
"The location of the specific Residential Learning Communities are yet to be finalized although Maya will once again be the residential home of the honors program," Hansen said.
2014-15 On-Campus Resources
The following resources, facilities and amenities will be available exclusively to students living in the residence halls beginning fall 2014.
STAR (Students Taking Academic Responsibility) Resource Centers
-Located near Tenocha, Maya and Olmeca, Chapultepec, and University Towers.
-Open Sunday night through Thursday night each week exclusively to residence hall students.
"These academic resource centers offer residents a place to study with computers, textbooks, free printing, free tutoring and academic support," Hansen said.
-Each residence hall is equipped with a TV lounge, recreation room, study lounges and seminar rooms.
-Everything is all on one bill: rent, meal plan, utilities, cable, Wi-Fi internet access, water, trash collection and a membership to the ARC, ARC Express and the Aztec Aquaplex.
-Everything is billed monthly to the individual resident and those with financial aid can have it directly applied.
-Fully-furnished rooms
-Individual license agreements
-A residential education staff
-Educational programs for residents. For example, career development, internship scouting or study-abroad opportunities.
"The support from our staff and the safety and security of our facilities are our most prominent benefits offered on campus," Hansen said.
Residential Living Communities
-Floors or wings within each hall dedicated to a major, theme lifestyle, topic or shared interest.
-Students can apply for a specific living community on WebPortal when applying for housing.
-Examples include journalism and media studies, Explore San Diego, Substance-Free and Gender-Neutral.
-The Aztec Journey Community for upperclassmen in Villa Alvarado and Albert's College Apartments is considered a thematic community that will offer an independent apartment setting.
"These communities are unique because residents in them are placed into two classes with the other residents on their floor, including a university seminar class and a general elective graduation requirement that they take together," Hansen said.  "This increases the bond that the residents share because they are going to class with each other, studying for the same exams together and spending more time together, in general."
My On-Campus Housing Experience
This year, I lived in Cuicacalli Suites on the Tepeyac side. I had a single room, but each floor is divided into suites. Though I had the privacy of my room, I also was able to have the roommate experience since I shared a mini-kitchen, a living room, and two bathrooms with eight other girls. It was a perfect balance for me having my own door to close when I needed to study or go to bed early without feeling completely isolated.
2014-15 Meal Plan Options
The following meal plan option will be available for fall 2014.
10 Meal Weekday Plan
One $8.20 swipe between 6:30 a.m. and 4:15 p.m.
One $11.00 swipe between 4:15 and 11:45 p.m.
*Swipes do not carry over. All money must be used in one swipe at one location. No weekend balance.
Flex 5
$20.75 declining balance each weekday
*Can be used at multiple locations seven days a week when dining facilities are open, but if unused at the end of the day, declining balance does not roll over. No weekend balance.
Flex 7
$19.20 declining balance each weekday
$13.00 declining balance on Saturday and Sunday
*Can be used at multiple locations seven days a week when dining facilities are open, but if unused at the end of the day, declining balance does not roll over.
Meals Plus Plan
80 meals per semester from Cuicacalli Suites Dining Hall
$1,265 declining balance per semester
*Both meals and declining balance can be used any time that the dining facilities are open, seven days a week. Remaining meals and balance from the fall semester roll over into the spring but are not refundable if unused by the end of the spring semester.
Photo by Monica Linzmeier, photo editor