Softball wins series against Utah State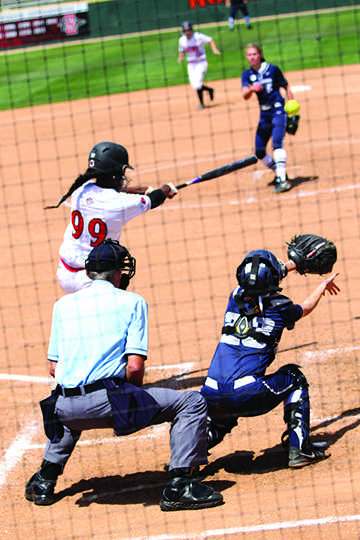 While the San Diego State campus emptied for Easter weekend, the SDSU Softball Stadium was filled with action.
The Aztec softball team played against the Utah State University Aggies in a three-game home series in which they defeated Utah State in two of their three games.
Although SDSU came out strong Thursday beating the Aggies 6-2, Friday's 1-0 loss ended their nine-game home winning streak. They came back on Saturday to beat Utah State 12-0 in the five innings.
The Aztecs ended the weekend with a 31-12 record for the season and an 8-4 record in Mountain West play.
The 31-12 record matches their best start in school history since 2006 as this is the ninth season in a row in which SDSU softball has had more than 30 wins in a season.
Game of the Weekend
Although they had been held to two hits and a walk in Friday's 1-0 loss, the Aztecs came out strong in the last game of the weekend, with 14 hits and 12 runs in only five innings. Nine SDSU players had hits Saturday with junior Kayla Jordan going 3-for-3 with two RBIs.
The Aztecs came out strong with two runs in the first inning and SDSU scored five more in both the third and fourth innings, giving them a total of 12 runs.
In her only plate appearance of the game, senior Dominique Dinner brought in two runs on a single up the middle.
Freshman Jaylene Ignacio started off the fourth inning by hitting the first home run of her career.
Sophomore pitcher Danielle O'Toole shut out the Aggies and allowed them only four hits during her four innings pitched, giving O'Toole her 23rd win of the year. Freshman Erica Romero closed the game allowing no hits in the final inning. O'Toole and Romero both struck out one in the game.
Player of the Weekend
Senior Patrice Jackson was a force to be reckoned with this weekend having five of the Aztecs 18 total RBIs this weekend. Jackson started the weekend with three RBIs in the first game, two of these came in the first inning with Jackson's two-run double to right center.
In Saturday's game, Jackson got on base by a walk three times in the first three innings and brought in two in the fourth with a single to center field. Saturday was the 15th game of the season in which she had multiple RBIs in a game, giving her a total of 42 for the season. Jackson currently has 131 career RBIs, which is two short of the SDSU career record.
The Aztecs will next play on Tuesday and Wednesday at the University of Nevada, Las Vegas.
Photo by Jordan Owen, senior staff photographer 
Photo by Jordan Owen, Senior Staff Photographer.