Close to home in the College Area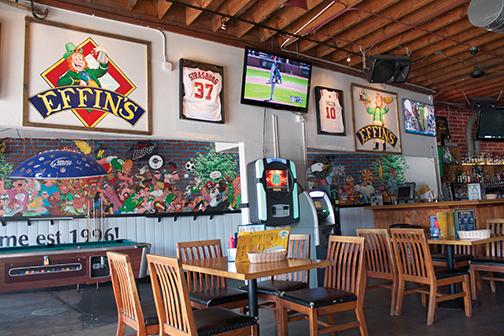 The first time I set foot on campus during orientation the summer of 2013 I was confused. Not because I was a clueless freshman, but I had been under the impression San Diego State was near the beach. In fact, I thought all of San Diego was five minutes from the beach. False. Once I had adjusted to the idea I was surrounded by residential houses, I was eager to explore the neighborhood, though I don't have a car. Coming from San Francisco, "The smallest big city," I was under the impression that being in a major city meant you could rely on a tight urban environment. Another misconception about San Diego.
Despite the limitations of living near campus without a vehicle, there are several gems in the College Area. The most obvious benefit is its proximity to campus. Many off-campus apartments are within walking distance of SDSU, and those a bit farther away either offer a free shuttle service or a free trolley pass.
Most of the apartments in the College Area cater to SDSU student's needs and often include amenities such as water, electricity and furnishing as part of their rent, to ease students into living on their own. The cost of a single bedroom apartment per month in College Area is about $760 to $1,510, depending on the size of the room and distance from campus. Many students also chose to lease nearby residential houses, which range from around $400 to $600 per month for a single bedroom. Living close to campus makes commuting to school easy, and to wake up at the last second and still make it to class on time.
Although a bit of a trek away, a popular College Area spot is The Living Room Coffeehouse, on El Cajon Boulevard.  It's about a 30-minute walk from SDSU, so your best bet is finding a friend who drives. Featuring a shaded outside patio as well as plenty of indoor seating, The Living Room is a great place to bask in the San Diego sunshine while enjoying an afternoon treat. The cafe also makes a good study spot for SDSU students.
"It's set up with lots of homey living room furniture and lighting," environmental science freshman Liam McStravick said. "It has some pretty yummy pastries and comfort food. I would recommend getting a hot chocolate and a cheese danish."
Another popular neighborhood spot is Effin's Pub and Grill, also on El Cajon Boulevard. Only about a 20 minute walk away from campus, Effin's is a popular neighborhood bar known for its cheap eats and Aztec sports game viewings. I'm underage, but Effin's allows those under 21 inside until 9 p.m. to enjoy the non-alcoholic side of life, including their fried pickles and tots. A classic sports bar, Effin's probably isn't the spot for an intimate and calorie-conscious meal, but rather a great place to hang out with fellow Aztecs rooting on their team.
College Area boasts a unique environment tailored to SDSU students.
Photo by Chelsea Massey, Staff Photographer