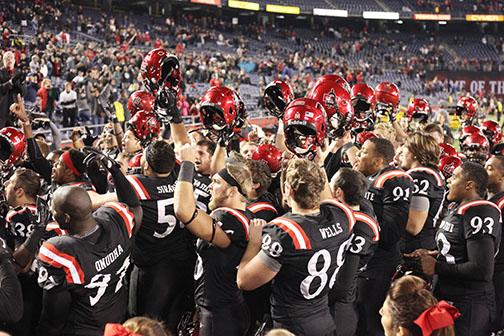 ESPN's Darren Rovell sent sports fans into a frenzy on July 2 when he tweeted that San Diego State could own the trademark to the phrase "I believe that we will win" by Aug. 25, a phrase often heard during the recent FIFA World Cup.
First of all, let's get one thing straight: SDSU holding ownership on the phrase "I believe that we will win" does not mean the school literally owns the chant. Anybody can start the "I believe" chant without worrying about Trademark Police popping up out of nowhere.
Anyone hoping to create a hat, bottom or top with "I believe that we will win" printed on it would need to pay SDSU, though. Specifically, they would pay Aztec Shops, the entity that applied for the trademark on Oct. 27, 2011.
SDSU, Utah State, the U.S. Men's National Soccer Team and Navy fans can all claim ownership to the chant as much as they want, but SDSU owning the actual trademark makes the most business sense.
Since the 2010-11 college basketball season, Aztec hoops have become a significant part of San Diego culture. The proof is in the numbers: the Aztecs have now played in front of 38 consecutive sell-outs, and 55 of 65 home games have sold out since 2010-11. Tickets are already sold out for SDSU's 2014-15 season.
Head Coach Steve Fisher calls Aztec basketball the hottest ticket in town, and he's completely right. Any SDSU student will warn against driving on game nights because fans flock to campus from all over San Diego to watch their Aztecs. And these 12,414 fans need something to wear, so they spend their fair share of money purchasing SDSU merchandise at Aztec Shops stores.
Let's compare that situation to Utah State University, one of the parties whose fans are upset by SDSU's potential trademark. The average home attendance for USU basketball was 7,937 in 2013 and 8,732 in 2012—a far cry from SDSU's sell-out crowds. USU football also draws smaller crowds than SDSU football, averaging 23,263 fans opposed to SDSU's 33,224 fans in 2013. It would make no business sense for USO to own the "I believe that we will win!" trademark over Aztec Shops, an entity that has a significantly larger customer base.
The U.S. Men's National Team has the largest customer base of all the interested parties, but it would struggle to market any sort of products. United States soccer becomes an afterthought in between FIFA World Cups.
The Navy has the best argument to oppose SDSU. There's documented and testimonial proof that the chant originated at a 1999 Army-Navy game. And Navy football has a significant fan base, averaging 35,588 fans at every 2013 home game.
But let's not forget about SDSU football, often overshadowed by the school's men's basketball team. Aztec fans hear the "I believe" chant echo throughout Qualcomm Stadium just like they hear it boom in Viejas Arena. As mentioned earlier, SDSU football averaged 33,224 fans at its 2013 home games, slightly less than Navy. But Navy averaged just 2,218 fans at home basketball games last year, giving SDSU's main sports the overall edge in fans—and thus, customers.
Any interested parties have until July 22 to oppose SDSU's trademark claim. If nobody opposes the claim, the phrase "I believe that we will win!" will belong to Aztec Shops.
Read the "con" argument for trademarking the chant here.