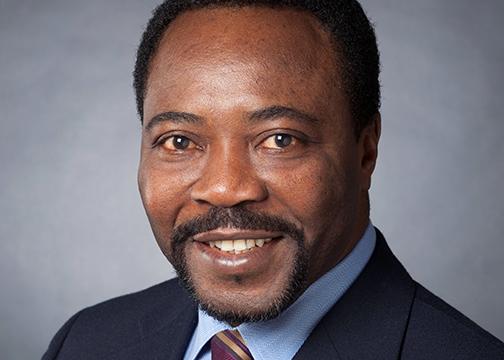 As summer marks the transition from spring to fall semester, San Diego State is preparing for an even bigger transition as Chukuka Enwemeka succeeds 15-year provost Nancy Marlin.
Enwemeka received his bachelor's degree in physical therapy from the University of Ibadan in Nigeria, where he was born. He later moved to the U.S. where he attended the University of southern California and received his masters degree in physical therapy. He received his PhD in physical therapy and conducted his post-doctoral research at the New York Institute of Technology.
Shortly after, he served as professor and dean of health-sciences at several universities. He is considered a distinguished researcher, authoring more than 85 original research papers and receiving millions of dollars in external-grant funding, according to the website of University of Wisconsin Milwaukee.
"In my career I have always considered myself a teacher first before anything else and even as I rose through the ranks, instead of teaching less, I was teaching more," said Enwemeka.
The position of provost is seen as second-in-command of the university as they oversee the different colleges and departments on campus.
"The provost is the guy who makes the final decisions on anything affecting student academics," said Interim Director for the School of Journalism and Media Studies Bey-Ling Sha. The provost looks at the big picture and makes decisions that will eventually affect students on a day-to-day basis.
He applied to State because he felt a strong dedication to student success, diversity, research and international education.
"SDSU already has a very strong commitment in faculty student exchange with other institutions and universities, so that to me is a very strong indication that this is a very progressive institution that wishes to embrace the future," said Enwemeka.
He has visited 39 countries and has lived in countries like Japan and Australia.
"I have so much world-wide experience, I thought that I could bring some of these experiences to help SDSU advance its internationalization of programs," said Enwemeka.
He was also interested in the university because of its commitment to be seen as an integral member of the greater San Diego area.
"SDSU has found a way to weave itself into the fabric of the greater San Diego community and wishes to strengthen its presence in this community as the intellectual engine that powers economic development and advancement in the region," said Enwemeka.
His extensive experience as an educator, researcher, dean and leader set him apart from other Provost candidates.
"It's one thing for people to say 'I can do something' and it's another thing for people to say 'I have done something and here is my record,' so I think what really set Enwemeka apart was that he was able to not only say 'I can do it' but was able to say 'I have done it and here is my track record,'" said Sha.
Sha was on the provost search committee that began in fall of 2013, comprised of different leaders representing the different departments on campus and Associated Students. William Snavely, Director of the School of Communication led the search for the new Provost.
According to Snavely there were more than 50 applicants for the position of provost. After narrowing the applicants to those who met the minimum criteria, conducting interviews and asking for feedback from the university community, Snavely said the committee came to a consensus that Enwemeka was the best choice for provost.
"He is a strong researcher with an international reputation and also someone whose values align well with those of our campus," said Snavely.
Enwemeka hopes to improve the student graduation rate, help move the research standard to the next level and enhance the international presence of SDSU and its programs.
"My role is to enable their success in every way possible and in everything we do," said Enwemeka.