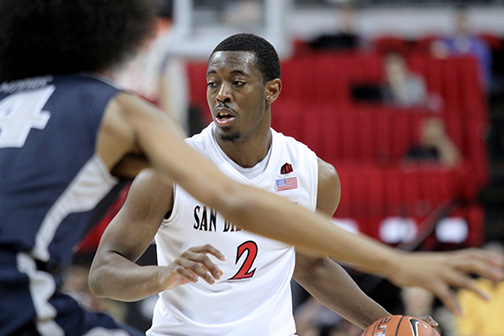 Xavier Thames, one of the most prolific scorers in San Diego State basketball history, may be taking his talents overseas next season.
According to the team website, Baloncesto Sevilla of the The Asociacion de Clubs de Baloncesto, signed the 23-year-old point guard early Wednesday. This comes after Thames was drafted in the second round of the 2014 NBA Draft by the Raptors, who immediately traded him to the Brooklyn Nets.
Since joining Brooklyn and playing on the Summer League team in Las Vegas, Thames struggled to bring his game up to the professional level, averaging just 3.6 points while shooting just 26.9 percent from the field.
In the NBA, second round draft picks are not assured contracts, so it's not uncommon for players such as Thames, who are picked later in the draft, to move to leagues overseas where they may make more money while playing more than they would in the NBA. The logistics of his contract are not laid out because he hasn't signed yet, but the Nets have until Sept. 6 to sign Thames. However Brooklyn has already signed their other two draftees of 2014, signaling that they may not extend an offer to Thames.
Thames' oft-injured career as an Aztec likely didn't help his cause. Aside from a stellar senior year—during which he set career highs in points (17.6) and steals (1.6)—Thames put up average numbers. Perhaps Thames' struggles in the Summer League, coupled with inconsistency during his collegiate career, is the reason Brooklyn may not sign him.
While Thames and all his fans at SDSU would love to see him playing in the NBA, The Asociacion de Clubs de Baloncesto, also known as Liga ACB, is a highly regarded international league. NBA stars such Ricky Rubio and Serge Ibaka have spent time in the league, so Thames will still be playing against elite competition.
One thing to note is that even if Brooklyn doesn't sign Thames to an NBA contract they still own his draft rights, so if he flashes the play that made him a fan favorite at SDSU, the Nets may opt to bring him back and have him back up All-Star point guard Deron Williams.
Most SDSU basketball fans will look at this as a step backward for "X," but this a great opportunity to show off his top-flight scoring ability in one of the most competitive basketball leagues in the world outside of the NBA.
His role with Baloncesto Sevilla hasn't been discussed yet but he will be playing with highly-touted center Kristaps Porzingis, who will probably be a first-round pick in the 2015 Draft, and will be coached by former Detroit Pistons assistant coach Scott Roth.