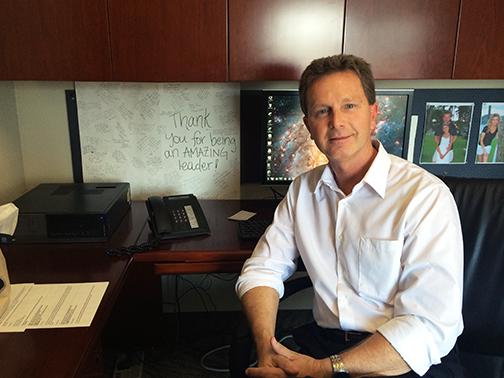 After six years of serving the Aztec student body, Timothy Quinnan will step down from his role as associate vice president for campus life to join University of Texas at Arlington in September.
He was chosen by UT Arlington's search committee to become the next vice president for student affairs.
Quinnan has dedicated more than 25 years of his life to student affairs, working at several institutions, such as University of Michigan, University of Cincinnati and Florida State University.
"The reason I love student affairs so much is because intellects are made in the classroom, but meaning and memory are made outside the classroom through the student life experience," Quinnan said.
"
"This has been the most complex, challenging, demanding and yet, fulfilling six years of my professional career."
— Timothy Quinnan
Quinnan joined San Diego State in the fall of 2008, shortly after the drug bust when 75 SDSU students were arrested in connection with drug dealings. When he began his position here, one of his responsibilities was to work effectively with the Greek system.
Quinnan said the last eight Associated Student presidents have come from the Greek system and during his time on campus, many fraternities and sororities have been added.
"Fixing a broken Greek system when I got here versus where it is today, where we have these accreditation standards, the vast majorities of chapters are excelling with scholarships, leaderships and service," Quinnan said. "They have become a very positive force in becoming incubators for leaders."
Quinnan has helped create the Pride Center, the Commuter Resource Center, and is currently in the process of helping to create a women's center, which would allow women to come together to advocate issues that are important to them. He also founded the annual Leadership Summit held on campus.
"He definitely moved us in the right direction and gave us the momentum to create a campus life that welcomes every student, regardless of where you come from, connecting students to peers and faculty," Vice President of Student Affairs Eric Rivera said.
Quinnan also helped create the office of Student Life and Leadership, and a Leadership Certificate program that now has more than 430 students registered. Rivera said Quinnan helped secure a $600,000 gift from a donor for the creation of the Student Life and Leadership office.
Some of the challenges he faced during his stay were the Student Success Fee Protests, divestment issues and the expulsion of some fraternities for dangerous hazing.
"UT Arlington will have its own challenges but I can't think of anything there that I haven't had to deal with here," Quinnan said. "This has been the most complex, challenging, demanding and, yet, fulfilling six years of my professional career."
Christy Samarkos, director of Residential Education will be stepping in as interim associate vice president for campus life. She has worked at SDSU for the past 15 years.
"I hope that I am able to continue to promote and sustain what he has built and begin to build some of my own pieces in the student experience," Samarkos said. "I think we're moving in such an incredible direction for student success and student engagement. I'm really excited to be a part of the dialogue."
Quinnan said he will miss most the students that he has had the privilege and pleasure of working with. Throughout the years he has built strong connections with students whose lives he has impacted, such as incoming A.S. President Jonathan Cole, who said he thinks of Quinnan as a "campus dad."
"He's made such a huge impact on this campus, especially creating Student Life and Leadership, which is a hub where students can find their identity," Cole said. "I can't reiterate enough what a big piece of San Diego State we're going to lose with him leaving."
Quinnan has more than 600 letters and notes from students he has mentored in the past six years.
"To me that's the legacy; it's those unsolicited testimonials," Quinnan said. "When my career is over I want to look back on thousands of people whose lives I've impacted profoundly and positively, and know that my life was well spent on others, not self-spent on me."