Then and now: Greek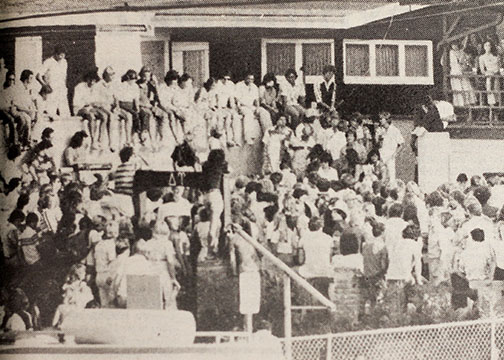 It's no secret that Greek life is one of the most prominent organizations on campus. Having been around since 1899, Fraternal organizations are one of the oldest student organizations at San Diego State, according to Student Life and Leadership.
Although Greek life has evolved through time, it's recognized nationwide for its commonly shared traditions and philosophies. With 44 recognized chapters on campus today—some relatively new—these organizations practice some traditions that date back 100 years. Other traditions, such as floats for the homecoming parade, have long disappeared.
There is much more to Greek chapters than parties and recruitment, so The Daily Aztec journeyed back in time to show the evolution of Greek life at SDSU.
1950s
Greek life at SDSU during the '50s is similar to the all-too-popular movie, "Grease." According to a decades-old issue of The Daily Aztec, it was a big deal for fraternity members to give a sorority women their pins. This gesture of "going steady" seems equivalent to receiving a football player's varsity jacket—it can make any girl swoon. Unfortunately, this tradition died out somewhere along the way, but maybe a revival is soon to come.
1960s
The crackdown of the SDSU whip during the '60s must have been harsh. In 1969, there were curfews, mandatory directors and, worst of all, alcohol was prohibited. No wonder membership reached an all-time low.
But it didn't take long for SDSU to earn the party-school label. During the '70s and '80s, members began rebelling and wild parties earned their infamous reputation on campus.
1990s
With new leadership and the Interfraternity Council insight, whispers rose about the fate of Greek chapters with the turn of the century around the corner. In an article for The Daily Aztec, it was predicted the alcohol-free state of campus would end Greek life as we knew it. Look whose laughing now! Greek life is bigger than ever and alcohol is more abundant than water in this drought—right?
Today
SDSU sorority and fraternity members explain the benefits of "Going Greek."
"Our house has evolved in the sense of growing sisterhood," Kappa Delta alumna Kelsey Tredwell said. "Every sorority/fraternity can increase the number of people they have, but at the end of the day it's about the bonds and friends you make that will last a lifetime. I experience Kappa Delta's growing sisterhood in the alumni chapter I'm a part of, and that is exactly why I'm so proud to be a KD for life."
"Expect to meet a quality group of friends that are like family away from home," Phi Kappa Psi junior Adam Francavilla said. "They will have your back no matter what."
"I have a whole house of girls that I can call at any time to either go out with, talk to, watch a movie with, go to frozen yogurt with-—anything," Delta Gamma sophomore Erika VonNovak said. "I know they'll always be there for me, and to have that support system is pretty amazing."
"My favorite part of being in a sorority is really the sisterhood," Delta Zeta sophomore Ally Meyerowitz said. "I couldn't have asked for better sisters in my life. We may be small, but we're all really close and we all have great relationships with each other, which is really important to me."
Times have changed. Traditions have come and gone, but one thing still in tact is the bond clearly developed through these organizations.