SDSU student skates the state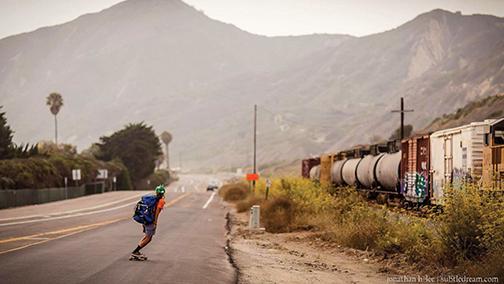 A San Diego State student recently skateboarded from the U.S.-Mexico border to San Francisco in three weeks, hoping to be the first to skateboard the entire coast of California.
Originally planning to skateboard from the San Ysidro, Calif. border to the California-Oregon border in 34 days, graphic design senior Jin Salamack traveled 640 miles before cutting his trip short because of physical deterioration. Taking into account side roads, the 840 miles on the highway convert to more than 1,000 miles from border to border.
It was as he skateboarded through Pacifica in San Mateo County that Salamack began to feel physical pain in his lower back, hip and knee, and his right foot felt as if he had fractured it. Salamack had been waking up by 7 a.m. and skateboarding approximately 30 to 40 miles a day, or about 10 to 14 hours.
"It wasn't until I got to the Golden Gate Bridge that I said 'people are trying to support me, push me, but right now, this is where I feel like it's a good place to stop,'" he said.
Salamack arrived at the iconic bridge on Aug. 18. He had recently met a man, Alistor, that was traveling from Anchorage, Alaska to South America, and his words of advice resonated with Salamack as he made the decision to cut his trip short.
"This is your journey, no one else's," he had told Salamack.
Born in Maui, Salamack embarked on the journey on July 22 with a High Sierra 45L backpack containing clothes, a sleeping bag, headlamp, first-aid kit, 3-liter Camelbak and three bottles of water.
"
I feel like just pursuing the idea opened minds for other people."
— Jim Salamack
Zack Luczynski, an SDSU alumnus ('10) and co-founder of the sunglasses company William Painter, met Salamack at a coffee shop weeks before his trip and gave him advice on setting up a website and getting sponsors.
"It was so inspiring," Luczynski said. "Our whole generation lives online and it's a whole world of likes and uploads. People dream about doing this and see videos of people doing this stuff."
William Painter became Salamack's first sponsor and other companies, such as skateboarding brand Sector 9 and clothing line Freeligious, joined.
Salamack said it was difficult to be physically alone during the trip. He began feeling blue between Santa Barbara and Pismo Beach, a dessert-like region in which there is not much along the road.
On the other hand, Salamack felt the moral support that was palpable through messages he received, such as the Forrest Gump-like saying "Push, Jin, push." These words of encouragement are the reason he didn't give up three times before, Salamack said.
Along the road, he met many people who made a lasting impact on Slamack. Perhaps one of the most influential was Wentzle Ruml IV, an original member of the skateboarding crew Z-Boys, who Salamack met in Big Sure after Ruml pulled over on the highway. Ruml became a mentor and called Salamack frequently during the trip to check on him.
The encounter happened at a prime time because Big Sur was the hardest section of the expedition. The highway has no shoulder space, Salamack said, and there are many steep downhills.
"But I think my favorite part was going by cyclists and seeing their jaws drop," he said.
During the trip, music from bands such as Forever Came Calling was a key inspiration to continue on. Even after, it helped him come to terms with the fact that he hadn't completed the more than 1,000 miles he had planned for.
"Just make mistakes 'cause you'll never be the same," reads a particular Forever Came Calling lyric that resonated with him.
Salamack realizes that if would have prepared better and began his journey earlier in the summer, he may have gotten further.
Standing at the Golden Gate Bridge that August day, Salamack looked ahead and said "next time.
Once classes culminate next summer—upon graduating—Salamack plans to skateboard from San Francisco to Oregon and then decide whether or not to skate the entire state in one journey.
The trip also opened doors professionally. When he made a stop in Santa Cruz, he visited the. Santa Cruz Boardroom and was offered an internship. The company looks for people who pursue big ideas, Salamack, who aspires to design clothes and logos, was told.
"I'm excited for the future. I'm excited for what's to come," Salamack said. "Honestly, I feel like just pursuing the idea opened minds for other people. That's all I wanted to do—to inspire people."