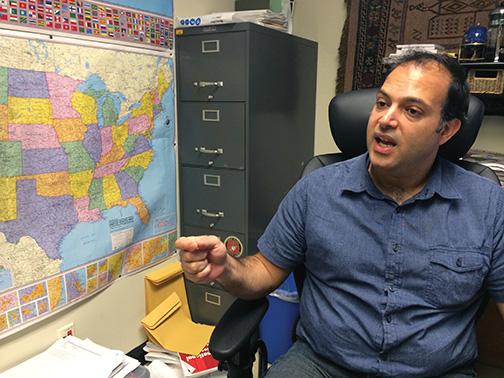 The tragic end to James Foley's life left not only an impression on the nation but the San Diego State community as well.
Foley, a freelance journalist, was beheaded by the Islamic State extremist group last month, two years after speaking at SDSU.
In spring of 2011, Foley was reporting in Libya for the GlobalPost when he was kidnapped by the Gadhafi regime. After six weeks of captivity, he was released.
Foley talked at SDSU in February of 2012 about the role of media in the war and his experience in Libya as a captive and journalist.
He also discussed the role social media played in the Libyan revolt and the dangers of being an international journalist.
"It was captivating and extremely intriguing and almost suspenseful because it was a personal experience of a person going through an ordeal," Director of Center for Islamic and Arabic Studies Hisham Foad said.
Jonathan Graubart, director of the International Security and Conflict Resolution Program at SDSU, was also at the talk Foley gave in 2012 and had mixed feelings about Foley's lecture.
"I remember being struck when Foley was here." Graubart said. "Lots of students admired him and I did see those admirable parts to him, but the professor in me was concerned that there has to be something more than wanting an adventure."
Graubart said there is a place for the independent journalism that Foley represented but it should be taken with caution and extensive knowledge.
"James Foley's death both gives us some sense that we want to seriously protect investigative journalists whatever their views, and it discourages a certain type of attitude of journalists who just want to learn more and go there," Graubart said.
Mounah Abdel Samad, assistant professor of public administration and director of the Institute of Public and Urban Affairs, brought Foley to SDSU with the help of the CIAS as part of their lecture series called "Understanding the Arab Spring."
"A combination of his expertise in the field, the experience he went through with Gaddafi and his kidnapping all made it very interesting for him to tell us what he had faced," Samad said.
Samad and Foley worked together in Iraq for a couple of months for a U.S. government program that provided assistance to essential Iraqi ministries and offices helping the Iraqi people.
"He was a very honorable, respectable and friendly person who basically believed in the idea that his journalism covered important events that would move democracy forward," Samad said.
Samad first saw the news of Foley's death via Twitter and was in denial, but after watching the news coverage of the event he determined the authenticity of the video.
"It's a big loss that James had to leave us in this way," Samad said. "While his death was tragic we need to remember what he stood for. It's important for us to not get stuck by one savage act and generalize it to a whole region; rather it's just one act. While it's savage, a lot of people are against it."