Diabetes app for college students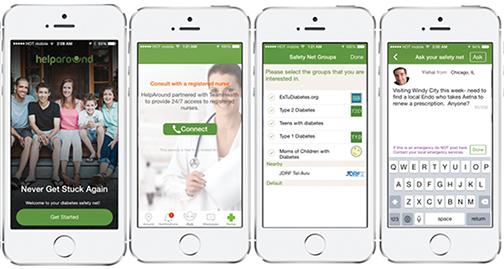 Going back to school can add extra stress to diabetic students' shoulders. Students shouldn't have to be nervous about having an emergency while in class and now they don't have too.
HelpAround is a personalized app for diabetics created by Yishai Knobel and Shlomi Aflalo in 2013. The app allows diabetics to meet other diabetics and prevent health crises by displaying where to find blood glucose test strips in any environment, among other features. Furthermore, users can locate healthcare services, doctors, insurance, pharmacies and retail opportunities. This app is a great tool for diabetics to stay safe and healthy, no matter where they are.
This "mobile service net" is the first sharing economy service for consumer health, according to the company. On Aug.13, Windham Venture Partners and investors Walter Winshall, Robert Oringer and Michael Dornbrook funded $550,000 to HelpAround.
"Diabetes management is exhausting for both patients and caregivers, yet there hasn't been a healthcare industry after-care solution that helps patients by connecting them to each other," HelpAround CEO and Co-founder Yishai Knobel said. "HelpAround's premise is: the best resource for a patient is another patient. We harness the superior trust, empathy and camaraderie within the diabetes patient community, allowing members to discover peers who truly get it."
The app has many launch features to provide a layer of support for the diabetic community. One feature is a web widget called EsTuDiabetes.org. This web-based widget targets Spanish-speaking diabetics and uses IP addresses to track locations. Therefore, people with diabetes who don't have smartphones and tablets can still find and connect with each other.
The other feature is called "Nurse on Call." HelpAround partnered with TeamHealth to provide a 24/7 phone support with registered nurses. The nurses are there to answer any diabetes-related questions and the service is free for users up to three times a month.
In addition to those two features, there are other safety net groups that users can join, including Type 1 Diabetes, Type 2 Diabetes, Teens with Diabetes, and Moms of Children with Diabetes.
"HelpAround's potential to crowdsource diabetes experience—and deliver it locally and immediately—for quality of life improvement really excites me," HelpAround Advisor Sonny Vu said.
HelpAround is making life easier for diabetics and especially young diabetics who are away to college. If you are a college student who suffers from diabetes, download this app and check out the features it has to offer.