Event welcomes new provost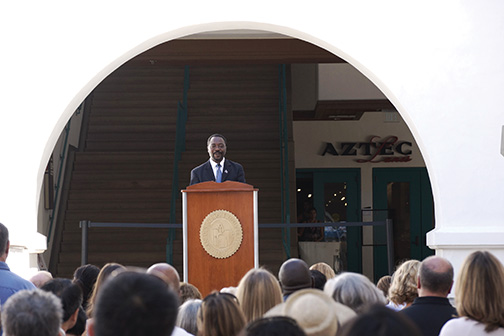 Provost and Senior Vice President Chukuka S. Enwemeka was welcomed at an all-campus reception Friday and gave a brief speech in which he advocated student mentorship.
Standing in front of faculty, staff and students at the Lee Frank Goldberg Courtyard in the Conrad Prebys Student Union, Enwemeka spoke of San Diego State's recent accomplishments, such as the top 18 entrepreneurial university rank and the discovery at SDSU of a gut virus affecting more than half the world population.
"Obviously there's so many things we are doing right," Enwemeka said of the university's feats.
He also mentioned that more than 2,000 students engage in study abroad and exchange programs yearly, and he said SDSU's goal is to increase the number to 3,000.
Enwemeka ended his speech by urging faculty and staff to become mentors to a few students and spend 30 minutes with them two or three times throughout the semester.
He said student mentorship could potentially raise SDSU's student success rate.
"Think about that: two or three students per employee," he said. "That would be about 2,000 students we're going to be able to reach out to and adopt and ship out to the finish line. And I can tell you, it's one of the most satisfying things you can actually get from being a member of this great institution."
Afterward, Enwemeka told The Daily Aztec he hoped this idea of mentorship was the biggest takeaway from his speech.
"[Students] will feel so welcome here and they'll know that somebody is there for them," Enwemeka said. "That idea is something that I hope people take away from here and that they embrace it and pursue it."
Vice President for Student Affairs Eric Rivera said Enwemeka seems to be thoughtful and bright, and that the last statements he made in his speech show he is caring.
"That suggestion he just gave about every employee mentoring two students—it's a very practical way to reach out to a student," Rivera said. "That's coming from a good place."
Dean of SDSU's College of Engineering Monte Mehrabadi said he is excited that the provost shares the same vision as other administrators.
"I'm also new just like him," Mehrabadi said. "It was very important for me that the provost also embraces all of the priorities that the president has—and of course, the deans have—and fortunately that seems to be the case."
Enwemeka said he has spent most of his time so far getting acclimated to SDSU.
"I've been going around, getting to know the campus, visiting different departments, colleges and schools, and introducing myself—learning what they do and how I can be a part," he said.
Aside from Friday's welcoming event, Enwemeka has felt welcomed overall.
"Even the student leaders took time to welcome me by taking me out to lunch," he said, referring to the Associated Students representatives.
Enwemeka transitions to SDSU from the University of Wisconsin-Milwaukee, where he served as a distinguished professor and dean of the College of Health and Sciences. He has been at SDSU since July 1.