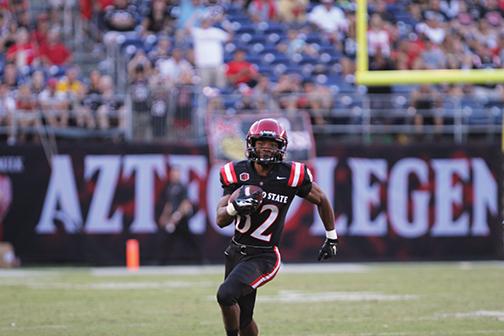 The San Diego State Aztecs (1-0, 0-0 Mountain West) opened their 2014 campaign with a comfortable 38-7 win against the Northern Arizona Lumberjacks (0-1, 0-0 Big Sky) on Saturday at Qualcomm Stadium.
Head coach Rocky Long and company were happy after the game about their win, but Long pointed out that his team can improve a lot—especially on defense.
"We missed a ton of tackles," Long said. "We were reaching instead of running through people. I mean, I thought it was okay. It was okay for the first time, but we've got to get a whole lot better quick."
Sophomore running back Donnel Pumphrey led the Aztec offense in his first game as SDSU's featured back. He logged 111 yards and two touchdowns on 19 carries, and also made an athletic 31-yard catch-and-run. His most impressive carry came in the second quarter when he beat his man to the edge and ran 33 yards down the sideline.
After the game, Pumphrey credited his teammates for his performance.
"I think I played alright," he said. "The offensive line, they blocked pretty well, and the fullbacks, they also opened up holes."
Four plays after Pumphrey's big gain, the 30,761 fans in attendance saw what they hadn't since Sept. 28, 2013; an SDSU field goal. In his first career NCAA start, junior transfer Donny Hageman knocked a 48-yard field goal attempt straight through the uprights, putting the Aztecs ahead 17-0 at the beginning of the second quarter.
Hageman told reporters that he knew of the team's previous kicking woes, but that they had no impact on his performance.
"I was definitely aware of [SDSU's kicking struggles]," he said. "Going out to kick, I wasn't nervous at all. I went out and took my approach like always."
Following Hageman's kick, SDSU and NAU traded unsuccessful possessions ­(including Hageman's unsuccessful 46-yard field goal attempt), and the Aztecs began their final possession of the half with 1:42 remaining in the second quarter.
Kaehler then pursued to complete five consecutive passes for 75 yards, ending with a 2-yard touchdown pass to junior tight end Robert Craighead. The Aztecs led 24-0 at the half.
Kaehler finished the game 18-29 for 205 yards with one touchdown and one interception. He showed flashes of his senior-year potential, but also showed a healthy share of offseason rust—especially with accuracy.
"I thought [my performance] was subpar," Kaehler said at the post-game press conference. "You know, the guys around me did a lot of great things, so it may not have seemed that way, but I didn't play well enough that I needed to."
SDSU only outscored NAU 14-7 in the second half as the Lumberjack running backs began finding holes in an SDSU defense that put eight first-time starters on the field.
NAU's top two running backs, junior Casey Jahn and freshman Corbin Jountti, combined for 112 yards and a touchdown, with 73 yards coming in the second half.
Sophomore wide receiver Lloyd Mills and sophomore linebacker Calvin Munson made SDSU's plays of the game. Mills weaved his way through NAU's special teams unit to return a punt 67 yards for SDSU's final touchdown. Munson evoked the Q's loudest cheers when he intercepted NAU junior quarterback Kyren Poe's pass in the third quarter. Munson returned his interception 64 yards down the sideline to NAU's 1-yard line, dragging the Lumberjacks with him for the last 10 yards.
After the game Munson described how hard he tried to reach the pylons in those last 10 yards.
"I really just wanted to punch it in," he said with a laugh. "I miss the offensive days back in peewee football. I was just trying to get it in and I reached for it, but it was a great experience."
Junior running back Chase Price also asserted his No. 2 running back role, gaining 45 yards and scoring a touchdown on 11 carries.
SDSU's top two wide receivers—senior Ezell Ruffin and redshirt-sophomore Eric Judge—also played well. Ruffin caught four passes for 53 yards and Judge snagged five for 51 yards.
SDSU is on the road next Saturday as they travel to Chapel Hill, North Carolina next week to play Associated Press No. 23 University of North Carolina.