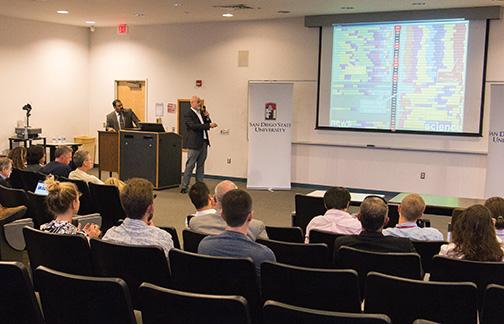 San Diego State opened a new center in August to keep up with changing technological innovations in our community and worldwide.
The Center for Information Convergence and Strategy, located in Storm Hall, has many unique functions that can help reporters and research analysts measure the world around them in concrete numbers and qualitative data. The center's capabilities range from state-of-the-art data gathering and visual analysis of content. Data gathered from the center can potentially provide new information about various subjects such as health care, law enforcement, security, education and public policy.
CICS is co-directed by Akshay Pottathil and Andre Skupin, both geography professors at SDSU.
The launch of the CICS was made possible by the university in hopes of advancing the role SDSU plays within research leaders in information technology.
"I didn't know we had a center like this on campus," psychology senior David Romo said. "It's about time that SDSU stepped up in the research game."
CICS will use numerous technologies that focus on tracking current trends and developing new strategies to keep up with the advancement of the technological world.
CICS emphasizes the merging of modern technology because many of its applications tie in within the fields of geography and information technology. The center is meant to be a means of support  for various research methods ranging from a broad perspective of disciplines. There is an emphasis on data acquisition and analytics, social media solutions, strategic mapping, and systems integration and development, according to its website. CICS will also utilize various information technologies to develop and evaluate current trends and strategies, which, for example, could help journalists cover disease outbreaks.
Atsushi Nara, associate director for the Center for Human Dynamics in the Mobile Age plays a key research role in data analytics and modeling complex socio-behavioral systems at CICS.
Nara said he analyzes the data acquired from various sources in order to extract knowledge including spatio-temporal patterns and trends, associations, semantics and contextual information underlying data.
"This helps us to understand complex mechanisms of spatio-temporal heterogeneity, non-linear system dynamics, interaction behaviors, multi-scale feedback effects, adaptation processes and emergence," Nara said.
He also utilizes the data and the extracted knowledge to build simulation models to predict system behaviors, which can support decision makings in various applications.
Nara is excited to work with colleagues in the center, research scholars on and off campus, government, industry and the local community to promote innovation and provide practical solutions at SDSU. Developing a decision support system for disaster management, disease outbreak and criminal behavior are some of the things Nara is working on.
"I think my research interests and the center's missions match very well," Nara said. "My research framework of spatio-temporal data analytics and modeling complex socio-behavioral systems can naturally fit to research of other members in CICS."