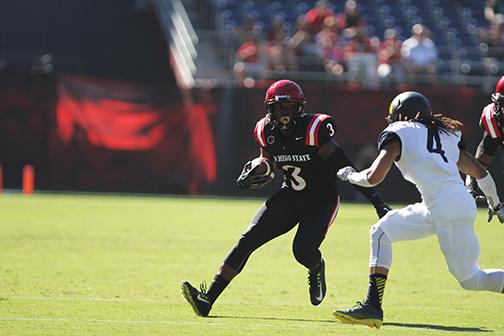 Twitter jolted to life in San Diego last Saturday like it does every time San Diego State senior wide receiver Ezell Ruffin makes a spectacular play. His 59-yard catch-and-run against the University of North Carolina Tar Heels drew multitudes of Twitter mentions and even a "Ruffin up #UNC" pun.
But those diving into the Twitter-sphere may not have noticed how hard Ruffin fell to the turf when two Tar Heel defenders tackled him.
Ruffin didn't play again and watched from the sidelines wearing an ice pack, a sling and regular clothes.
After the game, head coach Rocky Long told reporters that Ruffin had sustained a broken collarbone.
The following day, SDSU fans learned Ruffin would miss 6-8 weeks.
Ouch.
A huge blow, not only to Ruffin, but to his teammates who lose him for critical road games against Oregon State University, California State University, Fresno and possibly the University of Nevada.
Fortunately, Ruffin returned to play his senior year at SDSU for more than on-the-field accomplishments and statistics.
"(I wanted) to graduate," Ruffin told The Daily Aztec prior to his injury in the Fowler Athletic Center. "Only a couple people in my family have graduated, so that was important to me first and foremost."
Ruffin also wanted to lead his teammates in the way great Aztec receivers Vincent Brown and Dominique Sandifer did before him.
"I just always thought that was cool: to show that you could step up to that position," the Aztec captain said. "To take leadership and carry on a group of guys that trust you and that believe in you, and vice versa."
SDSU will need Ruffin's leadership more than ever as the team will play a group of receivers that amassed just one start last season.
The star receiver could have declared for the NFL Draft last year after his explosive junior season. He submitted paperwork requesting his draft projection from the NFL and received word that he'd be a fourth-to-late round draft pick, he said. But he always knew he'd return to SDSU.
"(I knew) even before I got the paperwork back," Ruffin said. "You only get one senior year in college. The NFL will be there, so I'm not worried."
Yes, the NFL will be there, and will most likely come calling in May. But Ruffin's road to playing on Sundays is now full of hurdles that didn't exist before Saturday night.
In the best-case scenario, Ruffin will play SDSU's final six regular season games and any postseason games the Aztecs reach. If SDSU reaches the Mountain West Championship game and a bowl game, Ruffin could potentially play eight more games.
Worst-case scenario: Ruffin misses eight weeks, the Aztecs play poorly and don't reach any postseason games, and Ruffin plays just three more games at SDSU.
Scenarios and injury timetables aside, Ruffin can still enjoy his favorite aspect of SDSU football while leading from the sideline.
"The relationships you make with your teammates are like no other," he said with a smile. "They're like brothers. And, I mean, you can't really top that."