Spotlight SDSU on-campus organizations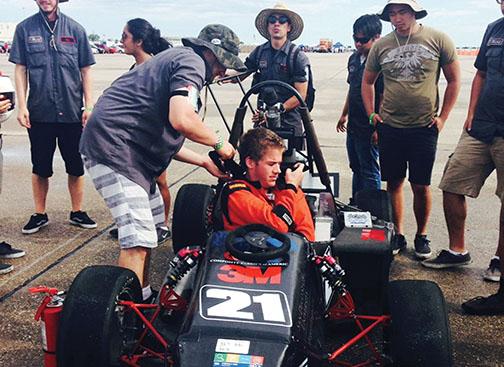 Women Engineers, UNITE!
Women seeking a career in the field of engineering can become part of the Society of Women Engineers, a nonprofit organization that provides academic and social support to students. Members are given the opportunity to meet local engineers from various companies and participate in networking and social events.
SWE also reaches out to local middle and high schools, encouraging young girls to pursue a career in a STEM related field. SWE has increased its membership by 400 percent throughout the past three years and hopes to continue growing. Students interested in becoming a member can check out the website.
Coaching Begins at the Corps
Coaching Corps provides qualified and trained coaches to after school sports programs for young boys and girls in the local community where there is need. College students and community members volunteer their time to serve as coaches, mentors and role models to teach kids valuable team skills, outside the classroom. The more students they recruit, motivated and ready to make a difference, the more kids they are able to impact. Coaches are allowed to pick their own teams in their preferred sport and are responsible for practice time and places. Members can look forward to a kickball tournament later in the semester. For students who are interested, the next meeting of the semester will be Thursday, Oct. 2.
Fast and the Furious- Aztec Edition
San Diego State is home to a Formula SAE team of students known as Aztec Racing, who build an open-wheeled, formula style care and compete with schools all over the world in Linocln, Nebraska. Local companies help provide the resources needed to assist these students while assmebling a Formula SAE-style car. The organization does not limit its membership to engineering students only, however being a part of this organization has helped some engineering alumni accept jobs or internships with top-name companies such as Ford, Honda and Solar Turbines. Students who are interested in being a part of Aztec Racing can check out its website.
Student Without Borders
Scholars Without Borders is an honor society providing international exchange and service information to students. Its goal is to provide SDSU students, faculty and staff members with the necessary resources needed to become a community of gobal citizens by offering scholarships and other networking oppotunities. Scholars Without Borders wants its members to be consistantly involved with international and local community service. The organization is going international this year and is in the process of creating a international humanitarian service project based in Nepal. Interested students can attend the next event, which is a Human Trafficking Panel from 6 p.m. to 8 p.m., Thursday, Nov. 6 in Scripps Cottage.
Rocket Powered Engineers
SDSU's Rocket Project organization serves to educate engineering students by designing and constructing liquid fueled rockets. Members are given the opportunity to gain hands-on experience with manufacturing liquid fueled rockets and, if successful, are able to watch their final product be launched into the sky. Last year the Rocket Project was able to send a rocket 10,000 feet in the air. This year, its goal is to reach 40,000 feet! Student interested in being a part of educational fun can check out their website.
First Wealth is Health
Students for Healthy Living promotes healthy lifestyles for student members. Its biggest event of the year is a Health Expo which serves to increase student awareness about wellness-related issues. About 50 vendors, located on-and off-campus attend the event each year and provide services and products related to health and wellness. Student members are given the opportunity to help plan events and network with local health and wellness companies. The organization is fairly new but hopes to continue increasing membership with marketing campaigns online, as well as around campus. The next meeting for the semester is Friday, Sept. 26 from 9:30 a.m. to 10:30 a.m. at Health Promotion in the Calpulli Center located on campus.
Lights, Camera, Aztec-tion?
Students interested in a career with film production can become a part of SDSU's Film Society, which means much more than just watching movies. Members are able to connect with other students who enjoy film just as much as they do, as well as gain resourceful advice for their own student film projects. The Film Society hosts a large film festival every semester, but it is limited to members only, so for students interested in the action their next social event on Friday, Oct. 3. at 6 p.m.