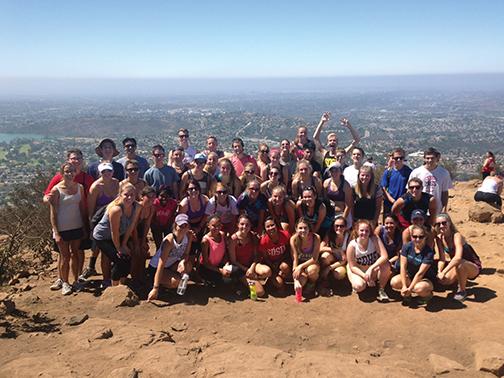 Making it the largest honors contingent in the history of the university, 226 freshmen form part of this year's University Honors Program at San Diego State.
All incoming freshmen who applied to the honors program had a GPA of 3.7 or higher, received a score of at least 1,200 on their SAT, or 28 on their ACT.
The honors program is as diverse as they are smart, with about 40 percent of the group being of a nonwhite ethnicity.
"We realize that excellence looks like a lot of different things," Director of the University Honors Program Stacey Sinclair said. "That's what makes us unique — we really are inclusive. We see the marriage of access and excellence."
Over the last seven years Sinclair has seen the honors group steadily grow. She said that for this year's incoming cohort, the program's administration reviewed more than 1,000 applications.
Sinclair said the program offers more than just scholarship opportunities; it's about forming communities and helping each student with their individual goals.
"We want this cohort to be a critical consumer of their education," Sinclair said.
Communications freshman Tiyana Dorsey is part of the incoming honors class. She said she graduated high school with a 4.3 weighted GPA and 24 college units. Dorset was accepted to University of California, Los Angeles and other universities, but decided that the honors program at SDSU was right for her.
"Over there I would've been just another number," Dorsey said. "Here I can start off by knowing a lot of people. It's nice to be here. It's like coming in with connections."
Each student who is accepted to the honors cohort as a first-time freshman is required to live in the residence halls to build community.
"You come here as an incoming freshman and you don't know anybody but once you come here, you instantly become like family," environmental sciences freshman Annabelle Burruss said.
Burruss said she graduated high school with a 4.17 GPA.
In addition to living in the residence halls, the students have an honors interdisciplinary minor and a study abroad requirement to fulfill before graduation.
"I definitely think this has taught me to get out of my comfort zone and do more and to always try to better myself," Burruss said.
As part of being a member of the honors program, the students have access to four full-time staff that are dedicated to helping guide them during their time at SDSU. Sinclair said the staff wants to help each student create goals and show them different ways their engagement on campus will help them meet those goals.
"It's really about making conscious, wise and international choices," Sinclair said.
In 2015 the honors program expects to admit about 250 students with the establishment of an honors college at SDSU.