SDSU wins competition with Kearney Mesa High School renovation project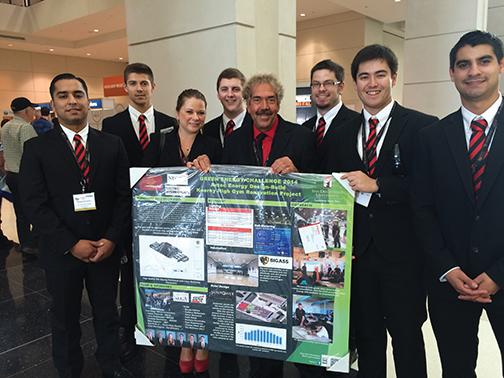 The San Diego State chapter of the National Electrical Contractors Association recently took the top honor at a national engineering and design competition in Chicago.
Teams of college engineering students from across the country competed in The Green Energy Challenge hosted by ELECTRI International. The goal was to design and draft plans for creating an environmentally sustainable structure at a local school.
The team of five SDSU students and two alumni was selected as a finalist in July. On Sunday, the members were awarded first place for their proposal, defeating Colorado State University and Iowa State University.
The team won with its plan to retrofit the Kearny Mesa High School Gymnasium. Ryan Badertscher, a mechanical engineering junior and vice president of SDSU NECA, was responsible for working with the high school to draft the plan.
"We actually went to the classroom and mentored the kids on the project we were proposing," Badertscher said.
The design team worked with San Diego contractors to determine the best way to address the high school gym's issues. Badertscher said one of the biggest problems was ventilation.
"The air quality was very stagnant and the temperature was 85 degrees without any people in it," Badertscher said.
To solve this problem, the team proposed using large fans similar to the ones in the Aztec Recreation Center. Badertscher said the slow-moving, energy-efficient fans would drop the temperature of the gym by 10 degrees.
Charles Plank is an electrical engineering junior and president of the SDSU NECA chapter. He said the design process spanned several months and required close attention to detail.
"We worked on this project from January until this weekend," Plank said. "It was really long but it was a really good project."
The team's design improvements were projected to save the school $22,000 annually. With the low construction costs, Plank said the energy efficient-design would pay for itself in six and a half years.
For the competition the team had to create a poster presentation and prepare a 15-minute pitch for a panel of judges and an audience of a couple hundred electrical contractors and engineers.
Teams must look at all aspects of the pre-construction process. That includes giving a detailed explanation of how the project will be financed. As the only team from California, Plank said they were able to use funds from Proposition 39 to cover nearly half the cost of the project. He said the proposition allows public schools to retrofit its buildings to be more efficient.
Plank said the award-winning design is now being considered by the San Diego Unified School District and the team hopes to see its plans become a reality.
As for the competition, the team hopes to grow the student chapter and compete in more design competitions in the near future.
"It's an honor to put SDSU on a national map," Badertscher said. "I know that this school is pretty underrated so any time we can go up against all the big schools and show that we're better, it's a great opportunity."