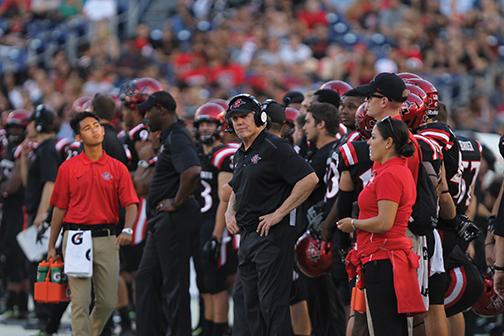 San Diego State's offense failed to run smoothly all night and the Aztecs lost to the California State University, Bulldogs 24-13.
Freshman quarterback Nick Bawden never seemed quite comfortable in the pocket and completed just nine of 24 passes for 84 yards. He tossed two crucial interceptions on SDSU's final two drives when the team trailed only by four points.
Bawden did, however, show flashes of great play that Aztec fans will see in the coming years on SDSU's sole touchdown drive. He completed all four of his passes on that drive, including a 5-yard touchdown pass to senior fullback Adam Roberts.
Offensive coordinator Bob Toledo relied heavily on the run tonight, and his running backs performed admirably.
Sophomore running back Donnel Pumphrey carried it 24 times for 94 yards and junior Chase Price carried it seven times for 14 yards. Junior fullback Dakota Gordon also showed off some powerful running skills, gaining 42 yards on six carries.
Fresno State's offense didn't run much more smoothly than SDSU's, as the Bulldogs only gained 315 total yards. But three turnovers and seven penalties for 64 yards proved too much for SDSU to overcome tonight.