Men's golf to finish preseason in Fairfax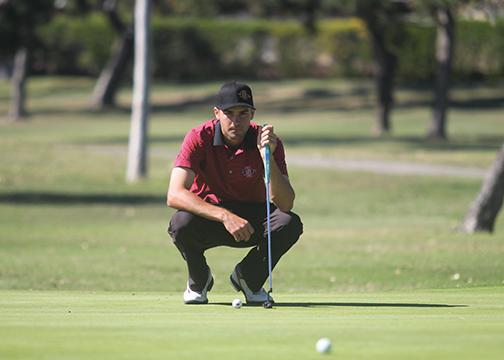 The San Diego State men's golf team will look to keep the ball rolling Monday at the Alister MacKenzie Invitational at The Meadow Club in Fairfax, California. The Alister MacKenzie Invite will be the Aztecs' final preseason event until they return to the course in early February to host the Barona Collegiate Cup in Lakeside.
The Aztecs, having finished in the top four in all three of their fall events, have been ranked 29th in the country by Golfweek. SDSU will join No. 19 University of California, Berkeley, and No. 28 University of Colorado as the only three top-30 ranked teams on the field.
The Meadow Club offers 6,734 yards of private fairways through the northern peninsula of the Bay Area. The course's designer, who the tournament is named for, also worked alongside Bobby Jones in the 1930's to design and construct the mecca of American golf, Augusta National Golf Club.
The Aztecs are hoping to improve on the mark they set last year when the team finished at a combined 9-under 855, which was only good enough for eighth place in the field of 16 teams. Tournament champion University of California, Berkeley took home the title with a commanding 39-under 825 aggregate score. The lowest scoring Aztec in last year's tournament was Xander Schauffel at 5 shots under par which was good enough for a 10th-place tie. SDSU would love to recapture the tournament title and bus the trophy back to San Diego as they did in 2007 behind Aaron Goldberg's stellar 9-under 204.
Head Coach Ryan Donovan's starting five is anchored by Golfweek's 55th-ranked player, senior Xander Schauffele. Freshman P.J. Samiere and junior Riccardo Michelini will hold down the second and third spots, while junior Michael Koeneke and sophomore Brian Song will make their first career collegiate starts.
Koeneke carded rounds of 78, 79, and 75 in his only action this season at the Southwestern Intercollegiate where he tied for 61st place. The University of Hawaii transfer should be itching to get out on the course and show his skill. Song, meanwhile, will be seeing his first 5-deep action so far this season.
Schauffele has a hot streak of his own to maintain after placing in the top four in his last two tournaments, including a runner-up finish three weekends ago at the William H. Tucker Invitational in Albuquerque.
SDSU is off to a better start compared to the 2013 preseason. In three fall events of 2013, the Aztecs' strongest showing was a 6th place finish at the MacKenzie Invitational which was played at an alternate site in Sonoma.