Volleyball pushes past Lobos in 'Pink Game'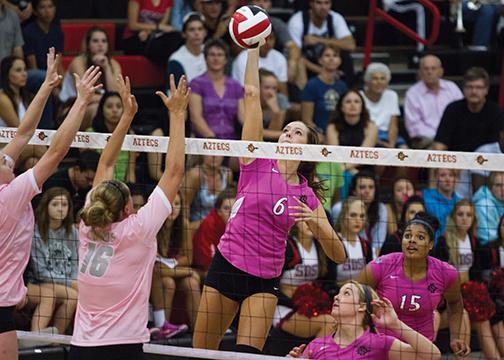 The San Diego State women's volleyball team continued its home dominance by downing both the University of New Mexico and the Air Force Academy this past week. The wins moved the Aztecs' overall record to 7-8 and 3-2 in MWC play.
"It was really exciting for us because we did get off to a slow start this season but we are finally starting to mesh all together as a team," said junior middle-block Kaja Sandberg.
SDSU took on the Lobos Thursday night at Aztec Court in front of 270 fans. It was the "pink game" where both teams wore pink jerseys to support breast cancer awareness. After a long battle that lasted two hours and 20 minutes, the Aztecs came out victorious in a game that went all five sets (17-25, 25-15, 24-26, 25-22, 15-8).
The Lobos came into the game undefeated in conference play and started out strong, winning the first set easily and looking poised to make quick work of SDSU. However, the tides quickly changed in the next set with a convincing victory from the Aztecs.
The next two sets were both action packed and went right down to the wire, with the two teams splitting both sets to send the game to a winner-take-all fifth and final set. The Lobos appeared to be flustered by the Aztecs' strong performance and were on their heels with SDSU looking for the final knockout punch.
One factor that may have contributed to this was two very distinct coaching styles. The Aztecs' head coach, Deitre Collins-Parker, let her players play through their mistakes and maintained a rather calm demeanor on the bench. Meanwhile the opposing head coach, Jeff Nelson, was getting increasingly frustrated and yelled at his players when they made mistakes.
"It is such a fun group to coach and our goal of course is to win every game but for me it's about them getting better," Collins-Parker said. "I see that happening so it makes it easier to relax and let them play."
The Aztecs came out charging and took advantage of the lackluster effort put forth by the Lobos to win the set and match. In fact, New Mexico seemed to completely run out of gas in the final set of the day and only managed a -.130 hit percentage.
"It was our first five-set match of the season, so we definitely wanted to go out start strong and finish strong and that's what we did," Sandberg said.
It was a total team effort for the Aztecs which included four players getting to double digits in kills. In addition, freshman middle blocker Jensen Cunningham had a big night by leading all players with seven blocks.
On Saturday night, SDSU kept the ball rolling by beating Air Force in three straight sets (25-19, 25-15, 25-20). However, despite the scores, the Aztecs had to play comeback in all three sets.
In the first set, Air Force jumped out to a 13-5 lead before SDSU was able to claw its way back and eventually win the set. Sets two and three saw Air Force jump out to a small early lead but the Aztecs once again recovered to win both sets and the match.
Senior right side hitter Chaiymin Steel had a big game by recording 12 kills, three blocks and two service aces. Meanwhile, younger players had big games too such as freshman setter Courtney Eckenrode who collected her third double-double of the year by getting 30 assists and 12 digs.
While the Aztecs are now 6-1 at home, they still have only managed one win away from the friendly confines of Aztec Court. So despite the strong homestand, Collins-Parker maintains that there is still room for improvement with her young team.
"(The wins) continue to give us confidence in what we are doing but unless we can win on road, we can't win the conference," Collins-Parker said.
SDSU will try to improve upon its road record when it travels to Reno, Nevada to take on the University of Nevada on Thursday, Oct. 16.