Aztec basketball receives No. 17 ranking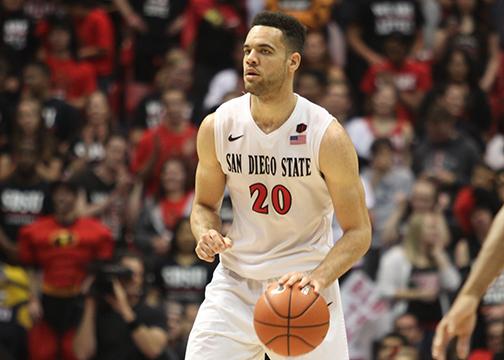 The San Diego State men's basketball team has been ranked 17th in the USA Today preseason coaches poll released this morning. This is the highest preseason ranking in program history and the highest since SDSU was ranked 20th prior to the 2013-14 season.
The Aztecs, who received 34 of 35 first place votes in the Mountain West Conference media poll, are the only Mountain West team inside the top 25. The University of New Mexico, predicted by the media to finish third in the conference behind Boise State University, is the only conference team receiving votes.
SDSU is also the only California school represented in the top 25, while Stanford University and the University of California, Los Angeles received votes.
Two of the Aztecs' opponents from last season made the top five of the coaches poll.
The University of Arizona came in at No. 2 and the University of Kansas at No. 5. Arizona beat SDSU twice last season, including a 70-64 victory in a Sweet 16 nailbiter and lost in its next matchup with Wisconsin. Steve Fisher led his squad into the home of the then-ranked No. 17 University of Kansas Jayhawks in early January, escaping with a 61-57 victory and strong momentum that lead to nine-straight conference wins.
There are only 22 more days until SDSU welcomes Point Loma Nazarene University for an exhibition match at Viejas Arena.